Logitech Harmony Elite 915-000256 Univeral Remote Control with Touch Screen Logitech $174.95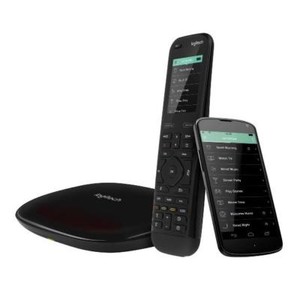 Buy This Item
ebay.com
Features
Type: Universal Remote
Compatible Brand: Multi-Brand
Manufacturer Color: Black
MPN: 915-000256
Model: Harmony Elite
UPC: 097855117007
User reviews
I upgraded because I was unable to update or make changes to the 1100 I had. I honestly feel like the 1100 form factor lended itself to a better layout for our purposes and was a little better due to the larger screen and being 2 handed. The new elite is a stretch to operate 1 handed for me and I have a little arthritis staring up so that doesn't help. The elite does support our newer devices and is overall probably better and we'll get used to it.
Nice unit that feels well made. I like that it's rechargeable and there's no need to keep extra batteries. Setup wasn't too bad. It pulled all the commands for the devices in my home theater system.. So of them i don't use and they could be removed, but only individually. it was a little painful, but hopefully i only have to do it once. touchscreen is responsive and there is haptic feedback. it can be a little too sensitive sometimes when pressing buttons near the screen. There may be a setting to control that so I'll have to do some digging. Overall a nice unit that controls my home theater and home automation devices
This unit was very easy to set up but most of all my wife that is not tech savvy is enjoying the ease of use and is extremely happy.
I had to replace my Pronto Pro's universal remotes because they couldn't learn the codes for newer devices. Though there's a learning curve if you want to tap into the full power of the Harmony Elite, it was worth it. The Elite is a right-sized device and with RF to the hub (which then transmits IR to the controlled devices), you never have to worry about pointing it or even being in the same room. Battery life is about three-five days under what I call normal use. Keep the charging base handy. I definitely recommend this device, so long as you are at least a bit tech savvy.
I am pretty well versed in harmony products and I find them easy to program. For direct tv I reprogrammed the Menu button to bring up the list, since I use that function a lot. I put the Menu function on one of the small colored buttons. Remote controls my lights. Still have to set up Alexa.