Logitech Harmony Smart Control All In One Remote with Hub & Smartphone App Black Logitech $57.99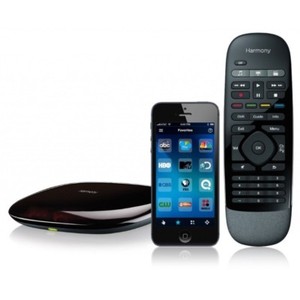 Buy This Item
ebay.com
Features
Non-Domestic Product: No
Compatible Model: Universal
Batteries Included: Yes
Features: Infrared, Wireless, Handgrip
Modified Item: No
Custom Bundle: No
Manufacturer Color: Black
Compatible Brand: Multi-Brand
MPN: 915000194
Type: Universal Remote
Wireless Range: 5-10 m
Manufacturer: Logitech, Inc
UPC: 097855084637
User reviews
I had my doubts that the Smart Control could match my URC MX-900/MRF-350 setup, but it blew it away in setting up activities, and RF and infrared performance. Logitech has over 200,000 devices in their library, and continue to add more, making it really easy with the discrete codes provided. URC on the other hand, doesn't want the customer to even have the software needed to program the remotes, and getting the software with the current devices is nearly impossible. One touch of an activity button now switches my TV to the correct HDMI input, turns on my DVD player, and even switches the input on my preamp. The hub that houses the infrared blasters, and the "brain" is amazing. I have the hub underneath my Sharp LED TV, my Roku 2 XS player one shelf below, and all my other equipment in racks to the right. The hub literally has to send infrared signals 180 degrees to reach most of my devices, and it does it every time without missing a beat. My URC setup is aimed directly at my devices, and constantly misfires, sending incomplete signals. The Smart Control is not perfect, it sometimes goes offline, but usually a simple reset will solve the problem. The remote buttons feel solid and precise, unlike the wobbly, cheap feeling keys on the MX-900 that have to be pressed straight down, or they sometimes won't activate. And the best part, the Smart Control is less than half the cost of a URC system, or three times cheaper depending on your URC setup or more. I've been a loyal customer and put up with URC's poor customer support for more than 10 years. No more, Logitech has come up with a winner.
I don't know why this unit gets such raves. I find the Harmony 350 more flexible and easier to use. The positives: -Allows control by smart devices (phones, tablets). -Like all Harmonies, it can control a large database of devices. The negatives: -while necessary for smart devices and powerful in its signal, the RF remote and hub is clunky and a bit difficult to retrofit. -the supplied remote is too small, with an insufficient number of buttons to be a full universal remote. -setup is still poorly designed. So many devices nowadays either have no power on button or are meant to be left on at all times (TiVo, Roku and others) yet leaving them always on is tucked away in the far recesses of setup. Many of us have DVR's that control channels, but this unit assumes they are controlled by the TV itself. -there is far too much emphasis on activities rather than devices. While starting a particular activity is a great feature, setup of individual activities is limited. -the phone app is awful to use, constantly swiping between unmodifiable screens, with commonly used buttons on different screens. The most commonly used buttons on a remote are power on/off, volume up/down, menu navigation and play/pause/ff/rewind. Yet they are not centrally featured. It took me quite some time to realize volume can be controlled by the phone buttons (usually). In general, I found the Smart Control difficult to set up, difficult to customize given the limited buttons on the remote and the poor design of the phone app and a generally arcane user manual.
Love this remote. Works with a physical remote as well as the phone app. I have tried Logitech's earlier attempts and this product finally works great, is very easy to support, and they seems to have revamped their internal support for the product so if I call, I can finally get an answer from a knowledgeable agent. I think I paid about $60 for this. What a bargain for a very good product. Only downside are the IR ports. They are the smaller 2.5mm connections. Wish they were larger 3.5mm standard connections. I also experience some intermittent connectivity to this hub. Not sure why but it's pretty infrequent. Good for you Logitech!
Unlike lower numbered Harmony remotes (like the 650), this one depends completely on wifi. If the wifi is off, the remote doesn't work. The programming of the remote is done with your smartphone, so if any problems develop you will have to put down the regular remote and go back to your smartphone to fix things. This can be very annoying since the phone fails to turn on one or more items about 20% of the time. It is possible to program a delay in the macro between items to turn on and off and this might fix problems like I am having, but nowhere is there any instruction on how to make use of a delay. Instructions simply say it can be done. Having said all of this, this is a great improvement over the 650 and the best universal remote I have had. There is a huge database of products which are identified during the setup, and the possibility of upgrades because of the wifi based operation. In six months I may have the remote I have dreamed of, if I can only figure out what to do with those "delays."
I knocked off one star due to the fact that the buttons on the remote are very small and not backlit. I love mine and bought my parents one also, but the buttons are quite small and I find myself pulling the remote up to my face so I know what I'm pressing. I think taller, backlit buttons would really make this the holy grail. Granted I can use my phone instead, but sometimes that isn't convenient. All in all it was fairly simple to program and found most of my devices automatically. Had a little trouble getting my DirecTV to stay on when switching to my Roku but got that sorted. My significant other REALLY likes the ease of use. Anyone can walk into my house and easily control my entertainment system, which is fantastic. I went from 5 remotes to one. Sooooo much nicer.