Mario Kart 8 Deluxe for Nintendo Switch – Brand New $43.99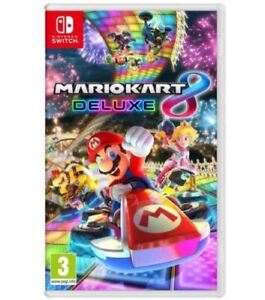 Buy This Item
ebay.com
Features
Platform: Nintendo Switch
Game Name: Mario Kart 8 Deluxe
Release Year: 2017
Publisher: Nintendo
Sports Sub-Genre: Car Racing
Bundle Listing: Yes
Rating: RP - Rating Pending
Genre: Racing
UPC: 0045496590475
User reviews
For one, I had the game already for my WiiU and I wasn't sure if I was getting the same experience, let me tell you it's an upgrade from the old WiiU version. By default you can enjoy a 2 player game rights away thanks to the switch allowing each joy-con as independent controllers. Not to mention added game mechanics like double items and a much better and preferred battle mode, if you're rebuying the game just to race new tracks you might be disappointed as there're little to no new tracks other than the battle mode and pre-included dlc tracks from the previous game. But the experience is like new and the ability to take the game around as easily as the console, makes this game a must have for party games!!!
I am still getting a feel for the game but it feels significantly dumbed down from mario kart 64. The game feels much less challenging like it was designed for toddlers or young children, which may be the case. I just don't feel like it takes any degree of skill. It seems like the game even helps you steer...
I love this product for many reasons. First is the excellent price of this merchandise at $45.99 plus tax. More than FOURTEEN DOLLARS OFF the original price of $59.99. Second is the graphics which are very well made with Nintendo. Third is the condition of the product, 'Brand New', is what I got. Finally, this game with my Switch pairs up to be an amazing combination of fun! I can play with my friends and family both local and online! 😀
Having only played a couple of races, this is an awesomely fun MarioKart! Even my 3 year old daughter had a blast, and she's still learning how to use controllers. It's so easy to pick up and everything is at your disposal. Having it on the Nintendo Switch is even better because it can come with us wherever we go. A must have Nintendo game!
I've been a big fan of mario kart since the N64. This seems to be another great entry in the series keeping most of what worked and adding some new elements. Now I'm introducing my kids to the series and they are learning to enjoy it as well. Highly recommended to anyone interested in mario kart and has picked up a switch.