Marshall Acton 50W Wireless Bluetooth Home Speaker – Black Marshall $109.00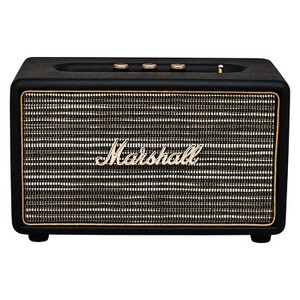 Buy This Item
ebay.com
Features
Connectivity: Bluetooth/Wireless
MPN: 04091802
UPC: 7340055334075
User reviews
i Love the control knobs for the bass & treble, it's a feature you don't see much anymore which is very important to me because my interest in music is very wide.
The sound is pretty clear and no distortion at all, and the look is amazing!! I just turn on the tube amp pro feature in my galaxy s9 and sounds even even better!!!
Incredible sound for such a small package!! The fit and finish is extremely good, like a big Marshall Guitar amp. Wooden frame with wrapped Tolex, and real Grill cloth. Switches are made to last and very smooth and accurate. Overall this the total package....and then some. Noticed one review saying sound degrades via phone Bluetooth. This depends on the quality of the recording and how high the volume on the phone is set. Putting the phone volume at100% isn't a good idea. Drop it down to around 75% and the phone signal isn't being pushed to the brink. Let the Marshall Amp do the work, you'll be able to turn it up full with very little degradation. Yes, it will still be quite loud!! Highly recommend this Marshall Acton, small package with great quality sound and huge volume for any Bluetooth this size.. or bigger.
Very nice build quality, looks like real Marshall amp. Sounds XLNT, balanced sound, great tonal control with analog bass/treble knobs. Easily fills room with sound, fairly compact, sounds like much bigger speaker than it's size would lead you to believe. 5 Stars ⭐⭐⭐⭐⭐
ok as far as sound its great sounds as you would expect from Marshall, Easy setup, the tone adjustments are their if you feel the need. Also choise of line in or Bluetooth, nice for recording play back. Classic look, knobs are cheep. dont brake them but thats the only negative