Mastercool 72485 Master Hydraulic Flaring Tool Set with Jiffy Tite Fitting Mastercool $284.99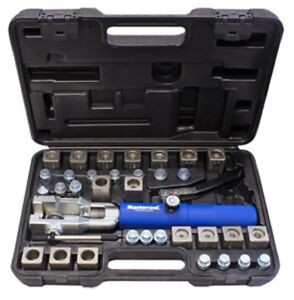 Buy This Item
ebay.com
Features
Part Brand: MASTERCOOL
Modified Item: No
Non-Domestic Product: No
Custom Bundle: No
Warranty: YES
Manufacturer Part Number: 72485
UPC: Does not apply
User reviews
A name brand (no knockoff) flaring tool. Precision made; all sizes and types of flares. It even came with a small tubing cutter(not shown in photo). A great value.
A must have for brake lines,fuel lines,trans lines. The only problem is it's a little awkward using under the car when it is only up on jack stands, otherwise it does a tremendous job on inverted flares and bubble flares. I havn't tried to make any fuel or trans lines as of yet, but when you get excellent results from the tool on the inverted and double flares I expect the same on the rest.
Took me about a year or so to purchase this. Had to do some GMC fuel lines and they normally cost about $95 to $100 and something per line. Bought some nickle cadium lines and tool for the same price. Lines won't ever rust in the future. Did some brake lines with this and was impressed how easy and quick it is to do it. I'm sure I will end up doing my transmission lines the same way. Bonus part was it came with a chrome tube cutter I did not notice. Was a awesome surprise. I wouldn't have waited a year if I knew how easy it made flaring brake lines. If you are contemplating on if it would pay for itself. It does.
The best line working tool I've ever used. A great tool for repairs on vehicle or making lines off a vehicle. Only thing it doesn't have is the 5/16" gm transmission line dies. I can't believe I used to waste so much time with other flaring tools to get lower quality results
This is the best flare tool i have ever used. Virtually painless to make common flares and specialty fuel conections i previously couldn't achieve.