Mens Gillette MACH3 Refills Razor Blades – 12 Cartridges Gillette $19.99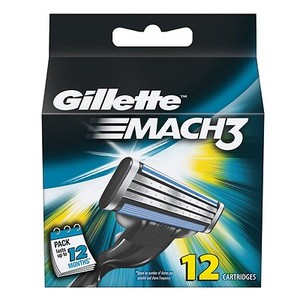 Buy This Item
ebay.com
Features
Model: Gillette Mach 3 Razor
Modified Item: No
Non-Domestic Product: No
MPN: Does Not Apply
Type: Cartridge Blades
Custom Bundle: No
UPC: Does Not Apply
User reviews
Blades are better than the unbranded generic type. They stay sharper longer. Lubricating strip is not as wide as the "Turbo" Mach3 blades but they are more expensive and I don't think its worth the extra money.
The blades I got looked fine, just like the real thing, packaging and all, and who knows maybe they are... but I was surprised to see that it came from China. Of course that didn't bother me, until I used it. I just used the first one, and it felt worse than the mach 3 razor I had been using for about a month already! Mid shave I actually put the old one back on the handle instead... and it felt much better. Again, they seem brand new, but they feel worse than any ones I swapped out because they reached their limit. I'll never buy these from here again. On the upside, Costco has a pretty good deal so I'm stocking up!
They really do a fine job shaving. Very close shave but not so close as to cut. Great product.
The volume of Mach 3 Turbo refills on the market is enormous. But getting the lowest "per each" item price is much more reasonable than retail.
These have always been excellent blades but the value of this purchase is incredible. TY.