Microsoft Surface Pro 6 12.3 i5 8GB RAM 128GB SSD + Signature Type Cover Bundle Microsoft $0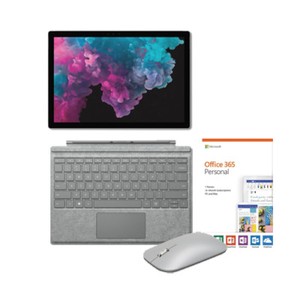 $987.00

Buy This Item
ebay.com
Features
MPN: LGP-00001+FFP-00001+KGY-00001+QQ2-00728
Model: LGP-00001+FFP-00001+KGY-00001+QQ2-00728
UPC: 0472000007899
User reviews
I waited far too long to get a new computer. It's so fast, the screen is beautiful, I adore the face recognition as I walk away from my computer often and didn't realize how annoying it was to type in my password or code 25 times a day. The only con is the screen and keyboard are so big that it's really hard to use as a true laptop comfortably with the external mouse. I will have to invest in an extra large lap desk to use this on the couch or in bed which is rare but possible. I love the mouse! It's sleek and easy to use. Another con that comes to mind, I wish it had another USB drive. But with Bluetooth connectivity, it's livable. I love the size of the screen when I use it as a tablet. The display is crisp and easy on the eyes. I'm very happy with my purchase!
Great product if you need extra portability and/or you're an artist. The selling point for me was that it's fanless, so, no noise and no overheat issues caused by dust. Note that passive cooling presents only at i5 versions of Surface Pro 6. Also there are no monitor-to-base bending cables, that are common failure cause on regular laptops. It's deffinately not for intense gaming. but it will run graphically undemanding games. There are few downsides in software: 1) For some reason Microsoft didn't create a customizable touch keyboard with floating and transparent keys - for games and other apps requiring keyboard usage, that don't support touch input (99,99% of them). And there is no reliable 3-rd party software for that purpose by now. 2) Initial updates are crazy: it took few hours to fully update the device. And there were 30 Gb debris (restore points, old updates backups, etc.) after it's done. I had to use Disk Cleanup to get rid of it. Not sure what inexperienced users should do in this scenario. And would it be safe for them to use the device when it's not even telling that it's updating and extensively using hard drive and processor to install/backup/check consistensy during the update. Overall the device is good, and if you know what you're buying when you choose Windows OS - you'll be happy with it.
Surface bundle with type cover. Good size to put in my bag carry it with me. Typing is easy. I like the lid at keyboard you can see in the dark. Screen is bright and nice. Unlock with you lr face is quite fast. Still many mode feature to explore. Love it. Worth the money
The Surface pro is amazing! Having the flexibility to be a tablet or laptop is great. Having the software included is an extra bonus. I missed the Black Friday deal on Microsoft, but glad I did, because this is a much better deal. The office software and mouse are included. I have used my surface pro several days on the first battery charge! You will not regret purchasing this one!
I'm a MAC user, but I have to say I love this computer, easy to use, light weight & great picture