Microsoft Xbox One S Wireless Controller – White Microsoft $0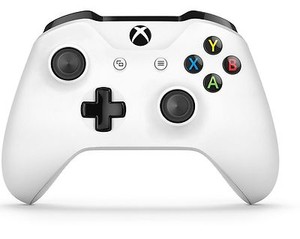 $59.99

Buy This Item
ebay.com
Features
Wireless Technology: Bluetooth
Model: Xbox One X, Xbox One - Original, Xbox One S
Type: Gamepad
Exterior Color: White
Connectivity: Wireless
Platform: Microsoft Xbox One
MPN: TF500001
UPC: 0889842084320
Color: White
User reviews
Really comfortable to use; the sticks are very responsive and everything seems just made for fitting in your hands. It has an expansion port and even a jack for you to plug your headphones. Besides using it to play on the console, you can also use it to play on your PC; a USB cable is all you need. Moreover, you can even pair it to you PC by Bluetooth. Your PC will instantly recognize it. Mine came into its original box, brand new (it comes with a pair of batteries in the box, so that you don't need to buy the first ones). I'm really happy with it!
I received the controller in a plastic sheet not in a boxed container. It did look brand New and fresh and was excited about the new look but the headphone jack was malfunctioning from the start. I would use my turtle beach mic but all i get is static and extremely low volume almost as if a smurf was whispering ever so slighty in my ear. Dissapointed to say the least
So it works as it should and it's obviously had a once-over cleaning. Packaging was all there so I'm happy on the aesthetics end. However, I found two issues with the controller. The first is that the left joystick rotates when it shouldn't, not a big deal but it's there. The second is that it wasn't put back together as well as it could have because any extended vibration in the controller is much louder than a brand new one. I had to press it hard together with my hands to quiet it down.
It's in amazing new condition and for a low price, my Xbox controller broke not to long ago, and I've been having to deal with playing with unresponsive controls, I went online to look for a great deal and found this, everything is fine now and I would recommend this to anybody looking for a low price controller, 5 stars for me! Looking forward to buying more items in the future from this store! 👍🏻
I've only had the controller for a day now, and I'm loving it. I use it for emulating on my PC, and it was super easy to set up. I just plugged it in, and Windows did the setup automatically. The controller is really comfortable and lightweight (since I'm using a cord, I didn't put in the batteries that came with it.) The buttons are all easy to reach, and are in natural positions for how I hold the controller. By far, the best birthday gift that I've bought for myself.