Milwaukee M18 Li-Ion 2 Gal. Wet/Dry Vacuum (Bare Tool) 0880-22 New Milwaukee $99.00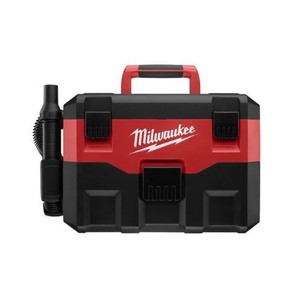 Buy This Item
ebay.com
Features
Length: 19 in.
Cord Type: Cordless
Height: 8.5 in.
Features: Blower
Weight: 9.4 lbs.
Type: Wet/Dry
Bagged/Bagless: Bagless
Battery Amp Hour: 9.0Ah
Filters: HEPA
Battery Type: Li-Ion
MPN: 088020
Capacity: 2 gal.
Hose Diameter: 1-1/4 in.
Series: M18
Sealed Pressure (Water Lift): 32 in.
Cordless: Yes
Voltage: 18V
UPC: 045242150434
User reviews
I have house plans which seem to drop their large leaves. A smaller convenience vacuums don't have a large storage compartment. They work fine for dust and small items that you want to clean up. Plant leaves are much larger and you need a vacuum that has more storage capacity for bulky he leaves. This Milwaukee battery product is perfect. The vacuum is portable so I don't have to unplug the cord like on many other shop vacs, as I walk from room to room vacuuming up plant leaves. It also has the capacity and design to vacuum up water or other spilled liquids. I highly recommend this product and especially if you're already using the Milwaukee tool systems that have interchangeable high-quality batteries. If you don't already use the Milwaukee tool system you'll also have to purchase a battery. This makes it more expensive than other AC cord and small battery powered vacuums which sell for $35 to $60.
Love this vac! Has good power and suction. It's tough, and can be used as a bench. I power it with 4 or 5ah batteries as it will suck the juice. Like the tool storage and cleanable filter. Its not a quiet vac but how many are?! Left mine in the bed of my truck while I washed it, oops. It got a little wet but didn't phase it a bit. The only thing that would be nice is the ability to plug it in at times, like the Dewalt, but I like the features of this one better. The portability and quality of this tool puts a smile on my face, Would buy it again!
I own about 20 battery operated tools, most of them in the 18v and 12v Milwaukee series. I have been using this vacuum for about five years now. It is powerful, versatile and I have used the crap out of the first one. I bought this new one as a back up. I have used it as Wet vac when fixing sprinklers, sucking up mud and water with gusto. A quick thorough cleaning and she is good to go. The only challenge is using the old style Li batteries from aftermarket providers. Those super light batteries are better performers than the OEM, but because of their light weight they do not always remain seated in the battery slot and it can lose power, a quick giggle and I am back in business. I added some thick tape ramps to better secure on my old one. I have yet to find anything better and did not wish to ever be without it, so I bought this unit as eventual replacement.
This product is one of the best items that I have ever bought. i have five vechicles and this is so easy to just pick it up and vacuum out the cars. You dont hae to bring out alot of cords and you dont have to move the vechicles, all you do is go to them. alos when working in the house and you make a mess you dont have to go and get the shop vac and all the cords. The power of this products is amazing. I also have both milwaukee battery types and that is great that you can use either type of battery. The batteries last a good time. Very easy to empty. Very nice product
This has been one of the absolute best purchases I have ever made. My wife uses it as much as I do & she was admittedly skeptical when the box arrived in the mail. It is heavier (than a handvac), but it has better suction, has bigger capacity to hold dirt/debris, and is lighter than our dyson cinetic big ball vacuum. My wife loves that it is cordless & I love that it uses the same batteries that I already had for my Milwaukee drill & Milwaukee string trimmer/blower combo. My wife. kids, & I now use this as our go to vac for cleaning out the cars, & for cleaning around the house (one person runs the big vac on the floors & other person uses this for everywhere else).