Nest Hello Smart Wi-Fi Video Doorbell NC5100US Nest $179.00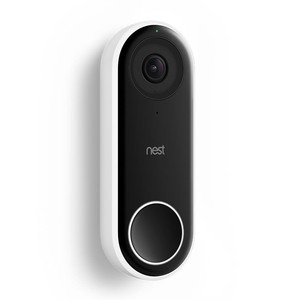 Buy This Item
ebay.com
Features
Non-Domestic Product: No
Modified Item: No
Features: Motion Sensor, Portable Bell/Chime, MP3 Recordable
Featured Refinements: WIFI Doorbell
Type: Door Video System
Wired/Wireless: Wired
Material: Plastic
MPN: NC5100US
Suitable For: Shop, School
UPC: 813917020951
User reviews
This is some amazing technology, sure you can get cheap security cameras, but this has a feature I have yet to see on the cheaper systems, face recognition. What sets the Nest Hello apart is that is easily integrated in to things like Google Home so that your home will announce the name of the person at the door if the Nest Hello recognises them, it is the touches like this that really make the difference. It was easy to install to replace a previous wired doorbell, and costs $50 a year with it holding three days of footage in the cloud in case you need to review it. I also like it's possible notification of when it thinks someone is approching the door, to alert you of package drops or possible malcontents up to shenanigans.
If you want frustration and aggravation then this is the product for you. Notifications come a day late, when someone rings the doorbell it will take you a minute to find the app, open it, and talk to the person at the door if not longer. By then the person thinks that no one is home and walks away. Great video quality live, but compression ruins the playback quality if you need to ID a person or vehicle, even with recording set to the highest resolution. And the doorbell is pretty smart at distinguishing people, but extremely dumb at distinguishing lightning storms, bugs, lizards, etc and floods my inbox with notifications....a day late of course. You'd figure with today's technology that they would have designed this camera to screen out a good portion of false alerts. More wedges should have been included to change the doorbell angle. The 15 deg wedge supplied isn't enough for the typical doorbell mounted at 90 deg to the door, so we see mostly wall and not enough front yard/porch.
This doorbell paid for itself within 30 minutes of install. So nice to be able to answer the door without actually having to open the door. Especially when you aren't sure of the person on the other side. So major safety points! Also, when you talk to a stranger at your door using the intercom feature, they figure out very quickly that they are on camera. It's a little sensitive, so if you live on a busy street, you are going to want to be able to set up zones, which I think is part of the paid feature. Had to go out of town for a week, and the peace of mind was worth every cent. I also use the Nest app on my Apple TV. Setup was EASY. The instructional video was great, and everything you need is included. Took me all of 20 minutes and it was up and running. Can't recommend enough.
I installed the doorbell camera after checking, as directed that the existing powered doorbell setup has adequate voltage. Installation required some minor rewiring of the doorbell transformer. Other than that, installation was just as easy as installing another nest camera. Facial recognition seems to work pretty well, and you get a warning on your cell every time the front door is approached with live video and an opportunity to chat with the visitor. A free several weeks of recording on the Nest's server comes with the purchase, but a monthly fee (I think its ten bucks) is required if you want to keep that feature. Takes a little while to learn the ins and outs of the app. Pricey compared to the Ring.
Easy to install. Good quality. Lots of settings so you can customize it to what you want (activity zones, notifications, sound, etc...). Need Nest Aware subscription to take advantage of some features, but in my opinion it is worth it.