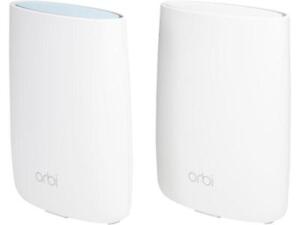 Buy This Item
ebay.com
Features
MPN: RBK50-100NAS
Number of LAN Ports: 3
Manufacturer: Netgear Inc.
Network Connectivity: Wireless-Wi-Fi 802.11ac
Model: RBK50-100NAS
UPC: 0606449116359
EAN: 0606449116359
User reviews
The Orbi AC3000 RBK50 system can be a little on the pricey side but good deals are available. My system has the router and 1 satellite; advertised as 5,000sq/ft coverage. The stability of the system is excellent. Purchased in December 2017. No glitches at all so far. Setup was easy. Setup guides are clearly written and easy to understand. "How to" videos abound on YouTube and from Netgear. Great coverage throughout my house (two stories 2300sq/ft) for all my wireless devices. ZERO dead spots. Performance is Fast and Stable. If you need more than 3 hard wire connections, get a 10/100/1000 4 or 8 port switch and problem solved.
Not ready for prime time If you are going to be using ethernet backhaul, do NOT purchase this product. It is a complete and utter mess. The software running on it is in beta at best. I want to suggest buying this product, but it just isn't ready to be used. When I installed a similar install with the Apple Airport Extremes, it took me 5 minutes to get everything up and running. With this, it took me 6-8 hours, and then wasn't stable and crashed. When we lost power, I had to wipe all the devices and start over. The hardware seems to be good, but the software is a mess. When you are instructed to plug things in, and walk away for 10+ minutes for this to become stable... there is a problem
Our cable/router is on the second floor and we have always struggled to get good reception downstairs and outside on the deck. I've went through many routers like the Nighthawk R7000 and a few others but still ran into dead spots and poor reception. After purchasing and setting up ORBI I can say that this is no longer the case. We set up the satellite on the first floor and now I get 150Mbps (which is our cable speed max) everywhere inlcuding outside in the yard. The true connection speed in most places is between 500 and 650Mbps. This is the only unit you need if you are looking for flawless reception at the fastest speed possible.
Awesome coverage, great speed, low latency. Would be nice if it had the option to view statistics and graphs that show network traffic during any given day. First time I'm trying a mesh type wifi system. Did alot of research and it was a toss up between linksys velop, the orbi, and google wifi. Decided to go with the orbi due to the tri-band capabilities. Did a speed test at the router highest down speed was 748mbps and up load was 43mbps. disconnected and tried wireless @ 30 feet away and I was receiving approximately 450mbps and 34mbps up. went to the other side of the house/frog and completed another speed test and I was getting 250+mbps download and +20mbps upload. The house is 3100sqft. The Netgear Orbi far exceeded my expectations as I was a little weary. Definitely worth the money.
This is an excellent router but a little pricey, setup not as easy as they claim but not difficult either, they should provide more details setup info instead. once setup this router will have the excellent signal & speed ! Please photo for my iphone7 Speed check, i used to have 300+ Speed, after the Orbi it shown 400+ speed !