New 13-Gallon Touch-Free Sensor Automatic Stainless-Stee BestOffice $39.99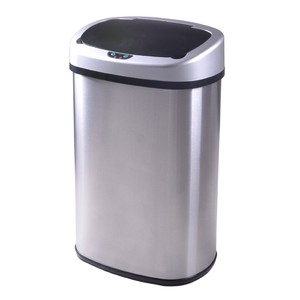 Buy This Item
ebay.com
Features
Model: TC-1350R
MPN: TC1350R
Bundle Listing: No
Features: Touch-Free Sensor, Closing Lid, Motorized (Touch), Open Container, Slide Rail/Under Sink, Touch Sensor
Country/Region of Manufacture: China
Type: Wastebasket
UPC: 0751986567086
User reviews
Arrived relatively fast. Well packaged, minimal Styrofoam. Actuator on lid quiet on open, a little louder on close. Lid opens just shy of vertical with opening measuring 13" X 7". Top is 3.5" deep so there is a little difficulty emptying other cans into it like you can with traditional step-open lid bins. Motion detection works well and is great when your hands are full of potato peels! Also has the ability to work with external power supply that you can pick up at a Radio Shack type store or can be used with rechargeable D cell batteries. Not sure how unit will work if self opening feature dies but I will cross that bridge if I get there. At this time I would definitely buy this again.
We ordered this automatic trash bin because our previous one had "died" from corroded wiring, perhaps due to liquid entering the wiring compartment. Upon its arrival my wife remarked, "It's so short!" and indeed it is 2" shorter than our previous bin. This isn't as disturbing as the fact that the three parts: bin, bag holder and automatic lid top do not fit precisely. The three pieces are slightly proportioned differently, so they do not align. If the parts are "forced together" the trash bin is functional. Since we had saved our previous bin and nothing fitted tightly, we assembled the new automatic lid top with our old bin. This automatic lid top is better designed than our previous "corroded" one with placing the on/off switch on the outside, single battery compartment and interior surface better sealed (presumably will prevent liquid flow into the wiring). We purchased this automatic trash bin because its price is $15 less than previously and the cost is a less perfect trash bin that still functions. Incidentally this automatic lid top also has a port for a power cord connection, which would eliminate the need for 4 D batteries, but at our cost the cord was not included.
I really like the way the lid works, NO MORE TOUCHING THE LID SO THIS HELPS KEEP DOWN A LOT OF GERMS. My kids are now throwing their trash away without having to be told to do so. Need to be careful of the can itself, as it is easy to dent. I like it so well that I am look to see if I can find them in the smaller sizes to use in the bathrooms.
The first thing I liked about this item is that it is an Infrared and not a motion sensor operated lid. We have noticed that with the motion sensor operated type it would open at the slightest movement ; such as a housefly or just walking by it. Got to be a pain ; scared the grand kids and one didn't have to be in the room for the lid to open, (housefly).This one has a nice wide opening to allow a dinner plate to be scrapped into it with out getting stuff on the sides or the floor. It is compact and sits back a few inches against the wall and not taking up floor space. The lid is a bit louder closing, but it closes tight. For the money it is a good product. Free shipping also.
I like the way the can looks. Very pleasing to the eye especially with stainless steel appliances. Also the convenience of the lid opening with just an object hovering over the lid is great. You don't realize how much you would need something like that till you have the amenity itself. Only thing I don't like is that the can will only work off batteries. I tried using an AC adaptor and it did not work. I tried using several in fact and still nothing. And one of them is the exact same one the Instructions recommended. Now I have to buy batteries all of the time. As we all know batteries aren't cheap. I just hope they last a long time. In the end I would recommend this to someone. Hope this helps.