New BestMassage Massage Table Portable Facial Bed W/Sheet Cradle Cover 2 Bolster BestMassage $79.99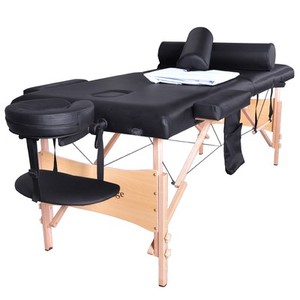 Buy This Item
ebay.com
Features
Model: MT-TSF2-Black
MPN: MT-TSF2-Black
Country/Region of Manufacture: China
Massage Supplies: Tables
Massage Supplies And Equipment: Portable Massage Tables
UPC: 848837003340
User reviews
I was really impressed by the quality of this massage table. The table arrived with a nice kit of accessories; which included a half round bolster, a round bolster, a massage table sheet face cradle cover sheet and a nylon holder which hangs on the side of the massage table to hold your oils and lotions. The foam is thick, but firm with a cut out with a removable cushion in case you want to perform massages without using the neck cradle. I have found this feature to be useful with my juvenile clients. The covering is a man-made type of leather that is nicely textured and easy to clean. The half bolster and full-round bolster are covered with the same type of material, these covers have a zipper so that they can be removed if needed, a nice touch. The legs are constructed of hardwoods that are light and feel quite strong. The knobs to adjust the legs up and down to change the height of your table are made of high quality plastic and feel good in the hand. It is a snap to set up and take down. In tight places it is a bit difficult because you must be able to lay the table on its' side so that the legs and supporting structures can "pop" out. Elastic straps on the underneath side of the tables' surface hold the neck cradle, neck cradle cushion, arm rest and side arm bolsters inside the table as it is folded up for transport. Lastly, the hardware is of quality stainless or chrome plated steel. I would recommend tightening them with a screwdriver before the first use, being careful not to strip out any of the Phillips Head screws, just to make sure everything is really secure. Whether you are a professional masseuse or casual home user you will find this table to be an inexpensive high quality product for many years of use.
The table is as good as the price you pay for it... I wouldn't recommend this table for a Therapist with a busy clientele. But would work for random massages.
I am very handy, and have had a cabinet shop and machine shop. I recognize quality workmanship when I see it. I was very much impressed with the quality of the material used in the construction, and the design and especially the craftsmanship, especially at this price point. I would most heartily recommend this as suitable for home use or as a starter for a professional use. I used to be a registered nurse in an earlier life. This is a little heavy for me to carry very far as I'm 70 years of age and have fairly advanced osteoarthritis. It is remarkably easy to set up and also remarkably sturdy, as it is rated for a 300 lb individual with no more than 150 lbs of force applied vertically to the 300 lb individual for a 450 lb vertical load total. No more than 75 lbs may be applied laterally. I believe this should suit most applications. The upholstery is remarkably good and well executed. The sheets that came with it are quite well made and fit very well. I would probably recommend that you order more of these supplies as needed. A professional would definitely need more of the sheet sets. Your mileage may vary. God bless you and enjoy this well made and executed product.
It's a bit narrow, but it's sturdy enough to hold a 200lb man. Much lighter than "professional" models. Good quality for the price imo. This is not a high traffic model but is fine for individual use. if you get massages at home you can save your provider some lugging with this inexpensive and useful table.
This bed is awsome! It's fully self contained, easy to set up and is absolutely sturdy. Don't let the price scare you off, it's a great bed. The only minor problem was that the storage bag had a tear in it. Easily fixed and not that important.