NEW Google Chromecast 2nd Generation HD Smart Media Streamer Black Voice Command Google $24.99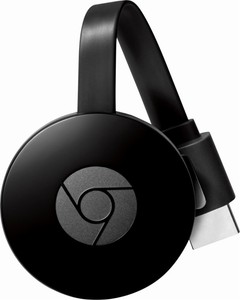 Buy This Item
ebay.com
Features
Audio/Video Outputs: HDMI
Model: Google Chromecast (2nd Generation)
Modified Item: No
Color: Black
Custom Bundle: No
Max. Resolution: 1080p
UPC: 0811571016518
User reviews
Very easy to set up since the interactive self installation software does it all for you. Quality of video is top notch, especially with a 5GHz wifi connection. Although the quality of sound is acceptable, it is not great. For one, I can only play stereo. Furthermore, the preset volume level is rather low and I needed to crank up the sound level on the receiver substantially.
I purchased this unit to replace a Sony Wii unit which was passed its prime(no HDMI and poor colour). No regrets at all. It was easy to set up and is easy to use, even for an old codger like me!
This works amazingly. I purposely got it to use with my google home and it works flawlessly. I knew my TV had the ability for the HDMI ports to control the TV on/off I am learning now that it can also control other abilities of the TV.
Unlike advertisement, It is imitation not a genuine Google Chromecast 2 for my best understanding. It gave me a slow response and some times screen freezes. In addition, it requires additional USB power from the wall not from TV USB port. When I connected to TV USB power screen flickers which was not usable. I do not recommend this product.
It works well without any issues, easy to use once you set it up anyone at your house can use it from his cell phone to watch anything on your TV.