New Massage Table Massage Bed Spa Bed 73″ Long Portable 2 Folding W/ Carry Case BestMassage $67.99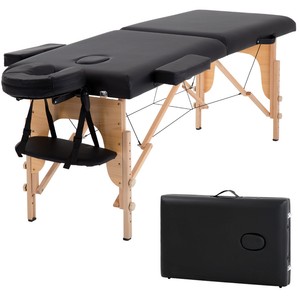 Buy This Item
ebay.com
Features
Non-Domestic Product: No
Massage Supplies: Tables
Model: MT-T1-Black
Massage Supplies And Equipment: Portable Massage Tables
Modified Item: No
Features: Portable, Electric
MPN: MTT1BLACK
Custom Bundle: No
Massage Table Type: Reiki Massage Table
Country of Manufacture: China
Type: Massage Table
Country/Region of Manufacture: China
UPC: 0005998000100
User reviews
My friends and I are all jigsaw puzzle lovers. Last summer I found a wonderful folding Puzzle Board and liked it so much I ordered 6 more for Christmas gifts. I then discovered this inexpensive massage table makes a great portable table to use with the Puzzle Board. My friends have commented on what a good idea this is so I have ordered several more and they will be my Christmas gifts for this year! I know my friends will be thrilled, and of course, the table can also be used for it's original intent as a massage table. It is sturdy and can be adjusted easily. It comes fully assembled out of the box!
This bed is a good choice if you are looking for something affordable. I already using this bed for facials at home. The bag for the bed is not a sturdy one, I broke mine already. The bed has all the extra pieces for massage.
Just arrived and the quality after inspection seems very good. I purchased this for personal use and it will work perfectly for me. As far as for mobile massage I'm uncertain. I estimate you probably could get 2 maybe 3 years of use out of this before replacing it. It's wildly beyond expectations for the price of 70 dollars especially considering all the attachments are included. It's light weight but seems sturdy. It's comfortable and practical. Against the price point of some others at 300-500 range this is the right choice. You can replace this 7 times and get 10-15 years of use while always having a new and clean table. It sets up quick and comes in and out of the travel bag pretty fast. Overall for the price it's impossible to beat.
I made the purchase thinking I had ordered a massage table that had other accessories. (sheets, and round support pillow). I think it I hit buy on the lowest cost table and did not review my order. When it arrived I opened it and was disappointed that the extra accessories were not there. I went ahead and reviewed the instructions. The instructions were short and easy to understand. I proceeded to set the table up which was extremely easy. Open, remove accessories, flip-up onto the legs, attached arm supports and the face cradle. Done and it was super fast. Got on it and moved around and rocked back and forth a bit to see how sturdy it was. It was sturdier than I anticipated. My fiance came over and gave me a deep massage to where she was exerting a lot of weight. This bed is strong and sturdy. Over the last couple weeks we have actually both been on it at the same time. I am 275 lb and she is 200 lbs. I am totally satisfied with the purchase as far is the overall quality for the price. I give 5 stars. After reviewing my mistake I purchased the other accessories and was still a few dollars cheaper. Made me even happier.
I really like my table and take it to all of my out call massage appointments. It is comfortable, easy to transport and set up and has some nice features such as the side panels for large clients. The carrying case, however, is made of a very thin material and the areas where the straps connect to it began to tear away within a week. After the tearing became more severe I just cut the straps off and carry it via the handles on the table. I also wish the case had a side pocket for lotions, linens, etc. I have to carry a separate bag for those.