Nikon D3400 24.2MP Digital SLR Camera AF-P 18-55mm VR&70-300mm DualZoom Lens Kit Nikon $426.99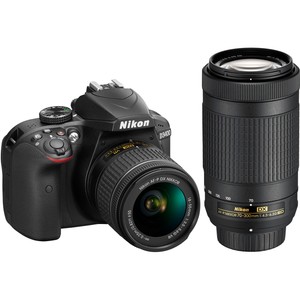 Buy This Item
ebay.com
Features
Screen Size: 3.0"
Optical Zoom: 1.5x
Type: Digital SLR
Model: D3400
Megapixels: 24.2MP
Weight: 14 Oz.
MPN: 1573
Battery Type: Lithium-Ion
Color: Black
Bundle Listing: Yes
Features: Bluetooth
Connectivity: HDMI
Series: Nikon D
Manufacturer Warranty: Yes
UPC: 018208015733
User reviews
Had it now for several weeks and have been playing around with it. Never had a DSLR camera before and I am learning allot the more I use it. There are many variables and that alone makes it fun trying to get the shot I want. I like having the option of using settings I chose and not have it in auto all the time. Plus it's nice getting shots in low light, and having them turn out like the room is lite up. If you want a camera you can just point and shoot, I would recommend a cheaper camera. If you like controlling the camera and trying to get that unique shot then this is a great camera. I love it and would buy it again.
I was so disappointed with this camera. The main complaint is about the Snapbridge Bluetooth connection. It kept disconnecting and then you have to clear the memory and start over again. It sometimes took several attempts to get it to reconnect. Also, the body is a light weight plastic with little metal to strengthen it giving it a "cheap" feel. Overall a very unhappy experience.
Recently moved up in the world from the Olympus EVOLT family of DSLR cameras, to the Nikon D3400, and have to say, WOW!!!!!! There is a slight learning curve of course, but the menu layout on the D3400 is intuitive, and easy to read and navigate, beautiful menuing system! I love everything about this camera! I have not had the chance to really go crazy and take on the road pictures yet as a truck driver, but am extremely excited by the test shots so far!!!!! I can't wait for spring!!!! LOL 🙂
Easy to set up and I love that my photos now go automatically to my iPhone. I am not a professional photographer but I love to take pictures when we travel and make them into books for my friends that traveled with me. This camera is lighter than my previous camera and has neat blue tooth bells and whistles.
Easy to use. Great first DSLR camera. There's enough automatic features for a newbie like me, but with a little exploration, you can also use the camera in manual mode. I'm enjoying the camera already! The image quality is excellent and the two lenses adds so much flexibility.