Nikon D5600 Black DSLR Camera w/ 18-55mm VR + 70-300mm + 32GB Top Value Bundle Nikon $665.00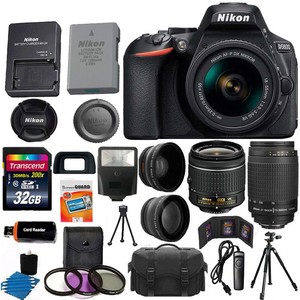 Buy This Item
ebay.com
Features
Megapixels: 24.0MP
MPN: D5600
Bundle Listing: Yes
Type: Digital SLR
Bundled Items: Case or Bag, Flash, Lens, Lens Cleaning Kit, Lens Filter, Memory Card, Memory Reader, Strap (Neck or Wrist), Tripod
Model: Nikon D5600
Manufacturer Warranty: No
UPC: 806802604015
User reviews
The Nikon D5600 has some great features as well as what might be the best sensor in this price range. if you're ready to move up from point and shoot cameras this is a great way to start. as I was looking for a new camera, I read many reviews and watched several videos of hands on demos of professional photographers putting this and other cameras to work. the Nikon D5600 seemed to be the right choice for me. it has great imaging and the touch screen makes changing settings easy. while the supplied manual is extremely basic, there are many online tutorials for folks that are new to this type of camera. another great thing is the wide selection of lenses available.
For starters I know absolutely nothing about "photography" other than cell phone shots. Aperture, shutter speed, iso..all that I'm clueless on . I have been reviewing cameras that are affordable, and I found myself liking this one over a Canon and Nikon D3600 for a few reasons, this camera has 39 focal points compared to 11 with the 3600, has WiFi and better options to export photos, has a lcd display that is touch screen that pops out and can rotate compared to a fixed non touch screen with the 3600, it also has a better range of options and functions and even has a mic port which the 3600 doesn't. It shoots great video and there are a few great videos on YouTube that instantly help from 3rd party people..I would heavily recommend "Nikon d5600 "user guide" how to setup your new dslr" by Jared polin ( white guy with a big fro)...very informational for this camera. Tip: buy an extra battery, the battery life isn't as good as the d3600 but that's ok, still shoots hundreds of pics easily.. As of this review, I've had the camera for 3 hours and already have all the settings where I want them from that video I referenced and feel comfortable experimenting myself now. Summary: great camera, great lenses, compact and lightweight And I'm very happy with the quality. Be sure to watch the video if you're a beginner, it is a great and fun video to watch.. Hope this helps you!
This was an amazing package at a fantastic price. Our son was so surprised and began taking photos right away, reading about and learning the features. He's watched videos from different photographers and is convinced this camera and all the lenses, filters, tripods, etc., that came with it will be all he needs for quite some time.
The camera and telephoto lens are good, the extra bits and pieces are a bit cheap in quality. Buying overseas not a good idea when you have to pay for warranty which was not valid in another country, plus duty, taxes and exchange rates can kill a good deal.
Great deal on Black Friday, with all those accessories. Nikon speaks for itself and the D5600 takes beautiful pictures. Feels nice and solid in the hands.