Nikon D7500 20.9MP DX-Format 4K Ultra HD Digital SLR Camera (Body Only) Nikon $834.99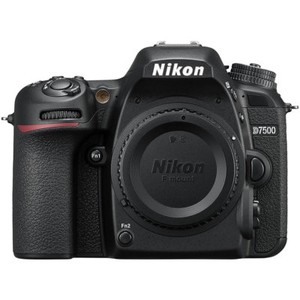 Buy This Item
ebay.com
Features
Type: Digital SLR
MPN: 1581B
Features: 4K Ultra HD and 1080p Full HD video, Dust-Off Reference Photo, Audio Recording, Bluetooth, Built-in Flash, Red-Eye Reduction
Bundle Listing: No
Color: Black
Model: 1581B
Megapixels: 20.9
Battery Type: Lithium-Ion
Manufacturer Warranty: Yes
Connectivity: Stereo mini-pin jack, Hi-speed USB, HDMI
Screen Size: 3.2
Series: Nikon D
UPC: 018208015818
User reviews
This is the third Nikon camera that I've bought and is easily my favorite. Apparently this is considered an enthusiast model so I can only imagine what a professional camera is like. This is a major step up from my D 3400. I have yet to learn all of the functions that this camera can do but with what I know so far I am quite pleased with the purchase and have taken some of the best shots ever. I have no problems with it being that it is a refurbished item. It has not failed on me in any way it doesn't seem to be lacking in any way so the fact that is a refurb makes it even more sweet. The price that I paid for it in comparison to a new one makes it practically a steal. This camera is loaded with features like Ultra HD video recording, HD photos, Bluetooth connectivity, Wi-Fi connectivity, and a bunch of effects to enhance photos. With the Nikon wide-angle 18-55 lens, the Nikon telephoto 70-300 lens and the Nikon hybrid 55-200 auto focus lenses that I have, I am having the best time taking photos and learning how to be a better photographer. This is the second refurbished Nikon I have purchased and any hesitation I had before making the purchases is completely gone. I would definitely buy another refurb and whenever I decide to upgrade I will look for another first.
I was looking to upgrade from my bridge and mirrorless cameras, to a new 4K bridge camera. best option was the Sony RX10iv, but for the less than that, I could afford a camera with an APS-C sensor instead of a 1", with many many features and more professional appearance. I completed the body with a Tamron 16-300 which is more than enough to avoid carrying many lenses on my trips. The only con at this point is that even with a light lens, still is too heavy for a hiking and trip camera, lets see if I get used to it.
Upgraded from a D5100. The viewfinder feels more natural to use. The improved ISO settings are very helpful, as is the increased image size. Many awesome features.
The Nikon D7500 is a great camera for 750 dollars has many features that I can't wait to try my last Nikon Camera was D90 it still works and takes wonderful shots I just feel like I was missing out on.
Features galore and cutting edge quality. An amazing camera which is excellent at stills and motion pictures.