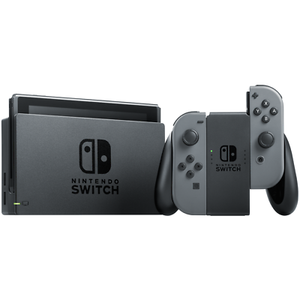 Buy This Item
ebay.com
Features
Package Dimensions: 6.12''w x 2.12''d x 6.12''h
Platform: Nintendo Switch
Connectivity: Built in WiFi
MPN: HACSKAA01
Warranty: 1 year
Color: Gray/Gray
Game ESRB Rating: Everyone
UPC: 00045496881856
ISBN: Does not apply
EAN: Does not apply
User reviews
Can barely tell the difference between this refurbished product and a new one, and I've played both. Nintendo's standards for refurbished products are certainly high. As a standalone product, Nintendo has certainly hit it out of the park with the Switch. Both docked and portable modes (and switching between the two) are easy to understand and play with. All members of the family enjoy playing the games on the Switch. Very easy to set up and fun to play.
the first one i ordered had issues with frame rate and freezing while docked so i figured id order another and of course it wont even output on hdmi. Not buying another refurbished switch again.
Great money saver , left thumb stick is a little loose but when gaming you dont notice it, a lot of fun to play.
Great price, excellent condition
Saved myself a little money. Looks and feels brand new. Not a scratch on it, and it's warranties by Nintendo for a year.