NVIDIA – SHIELD TV – 4K HDR Streaming Media Player with Google Assistant – Black NVIDIA $149.99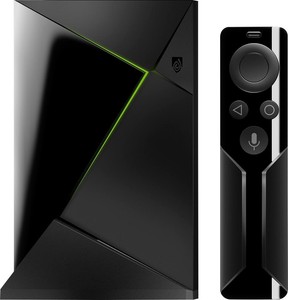 Buy This Item
ebay.com
Features
Manufacturer Warranty: Yes
MPN: 945128972500100
Warranty - Parts: 1 Year
UPC: 812674021867
Warranty - Labor: 1 Year
User reviews
I like this this box it very fast, nice pictures You can download or installed any app. The screen settings is easy to use and you can modified it. I Like the remote I can control both the shield and the tv. I add don't like the voice command on the remote because it only take me to YouTube for any commands. This is the best box i ever use I will buy more.
I have large 4K and 1080p files I play from my external hard drive and every app I tried, Kodi, MX Player and VLC, had the audio out of sync with the video after awhile. I chose bitstreaming in the settings of the Shield as well as within the apps and only one app actually sent the HD audio codecs to my receiver, but the other two didn't. This is great for people who don't have smart TVs and those who mainly stream from online sources. However, those who are into lossless, high bitrate video and audio will be inevitably disappointed! I will go back to viewing movies from my external HDDs on my HTPCs without all of these problems.
I like the android TV interface. It works well as a Plex player and with Netflix. It has plenty of game options that I have not yet explored. However, I also bought it in order to use it as a plex media server, meaning to host all of my media to devices (tablets, TV's etc) in my house. This was a heavily advertised feature. And now, after some recent updates, this won't work for me. The server constantly goes offline. I am not the only one to have this problem, based on reading forums. If you are looking to buy this product for that purpose, you might want to reconsider. The support has been non-existent.
Works very well, Has lots of good apps already installed, easy to add extra storage. Could have a remote with more featues bur can be used with a bluetooth mouse or keyboard. Can be opened with a harmony remote but then have to use the remote to move around.
On the positive side, it plays most video formats. But it is difficult to set up CEC for smooth integration with my Samsung Q7 TV. The remote control performance is poor as the distance increases, almost as if IR is used. Remote control commands are often delayed by seconds! Unit performance often suffers from response time problems, aggravated (or caused) by delays from remote control.