Parrot Bebop 2 FPV VR Drone Kit – Bebop 2 + Cockpitglasses + Skycontroller 2 Parrot $259.99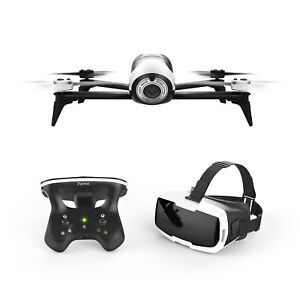 Buy This Item
ebay.com
Features
Non-Domestic Product: No
FPV Operation: Yes
Model: Parrot Bebop 2 FPV
Modified Item: No
Weight: 0.5 kg
MPN: PF726203
Type: Ready to Fly Drone
Camera Integration: Camera Included
Connectivity: Remote Control, Wi-Fi Connection, APP Controller
Camera Features: 1080p HD Video Recording, Wide Angle Lens, 720p HD Video Recording, Auto Exposure Bracketing, 4K HD Video Recording, Headless Mode
color: White
UPC: 3520410039331
User reviews
Let me say .. "I LOVE MY BEBOP 2!" I was looking for a new drone after parting company with DJI. I considered several others but decided on the Bebop because of the great price on the bundle. I watched review after review, some good, some scary, but for the price I took the risk...SO GLAD I DID!! I have been blown away by this drone. It is so much more hassle free than those DJI products that you don't truly own. With DJI I was always running into situations where I couldn't fly drone because the software decided it wasn't safe and wouldn't allow it .. with my Bebop 2 I launch anytime anywhere and it only takes a few moments to have this quad in the air. I also found that its far less intimidation to the public than the DJI drones that I owned. When people saw me panning my DJI camera they felt like they were being watched, but with the Bebop 2 housed camera everybody thinks its cute .. its also quieter and lighter and easier to transport .. great video footage and nice still images .. I get about 25mins flight time and I plan to buy another one .. never doing DJI again .. Never!
The paper work that came with the drone, seemed outdated. That is it seemed to be missing steps and required extra time to figure out. I was missing the propeller wrench, which of course was step #1. (I contacted the seller and they sent me a wrench right away!) You need internet access to download up to date manuals etc..I have not timed my flights, but seem to get lots of air time! The app shows you battery status, so you know when to land. You have to purchase some features, and so far I have not, seems kind of cheap on Parrot company. So far my videos have been good, the camera is set up right (starts on take off and ends on landing). For the little over $200 I spent, I feel I got a great step up from the toy drones I started out with! I haven't tried the cockpitglasses yet so I can't comment on how well they work.
awesome .. super fast ... 25 min flight time keep thinking battery is going to die it fly's so long ' fly's anywhere .. GPS works great .. easy setup goes far and high .. handles the wind easily ... fast charge time .. controller very accurate stops and moves on a dime , every time you turn on set down it auto trims everything fly's still in one spot kudos .....love this drone very dependable ... once the battery gets to 30% i fly close and low to me but takes forever to get to 30 % .. you will not find a better drone for 229 bucks no way .. its refurbished but works like a brand new one ..
This unit is amazing. HD quality vid and easy to download the vids or pics onto your phone. Quality and features of drones twice the price.
You can't beat the value of this package. I've looked at the cost of the Sky Controller 1 and any of the 3 FPV glasses that are compatible with it and the cost of the cheapest set of glasses is $300. With this I have a drone, glasses and a really nice controller for the price of just the glasses going the other route. Granted the resolution of these FPV glasses isn't great but they are good enough to fly with and this package is a lot of fun. The video that I capture with this drone is incredibly stable and it's 1080i. The drone is very stable in high winds and the return home feature is a lifesaver. I don't think you can get more for your money.