Pebble Smartwatch (Cherry Red, TPU Rubber Band) Pebble $21.49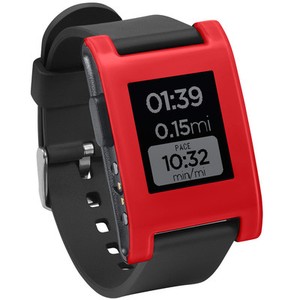 Buy This Item
ebay.com
Features
Band Material: Silicone/Rubber
Operating System: Pebble OS
MPN: 301RD
Case Material: Plastic
Manufacturer Band Color: Black
Bundle Listing: No
Features: Media Controller, Stopwatch, Notifications, Timer, Waterproof Reisistance
Modified Item: No
Band Color: Black
Custom Bundle: No
Compatible Operating System: Android, iOS - Apple
Non-Domestic Product: No
UPC: 0855906004061
User reviews
When the pebble works, it is fantastic. It is excellent for notifications from my phone and there are lots of cool watchfaces and a few other "non phone" features that you can add to the pebble. However, mine has a display problem which I think is quite common for pebbles that have been in use for a while. At random times, the display screen will get completely garbled and not be readable. Usually you can clear the screen by pressing some of the buttons a few times; but it is very annoying and I don't think it can be fixed. I purchased my unit used, so I don't think battery life is as good as the new ones; but I get at least 4-5 days of life out of it.
- Received on time and in good condition. - Too red bright in color to my taste. Wish other color was available! - Battery lasts 3-5 days from full charge. - Display not bright as Fitbit. - Menus/ buttons will take time to fully understand.
This is one great watch! It does everything I need as far as notifications. It has amazing battery life, easy to read screen(even in bright sunlight), can use many different bands watch faces, and skins as well. You really can't beat the price.
The watch does well what it is meant to do. It has simple interface and is convenient to use. It is light weight, and the default strap is very comfortable. I believe water proofing is its best feature - no need to remove the watch at all. Notifications are received perfectly, and I don't miss any of them anymore. Battery runs for a long long time. Even after 7 days, it was showing 10% remaining! The red one is an attention grabber. The glossy surface is not a fingerprint magnet, and can be easily cleaned. Sunlight legibility is awesome. Far better than any smartphone screen I've seen till now. I only wish the screen was a little more scratch proof.
What a smart watch was always meant to be! Light weight, well made, and not all the gimmicks of the Apple or Android watches. I first bought a Android smart watch and to tell you the truth I rarely used it because I had to charge it every night and it had way to many apps that really where not useful or entertaining. I want a smart watch that lets me read my messages, tells time, alarm, weather, and maybe music control of my smart phone. The pebble battery last for ever and it's always easy to see no matter the lighting. I love it.