Philips Viva Collection 1425W Low-Fat Multi-Cooker Airfryer Air Fryer -HD9220/26 Philips $54.95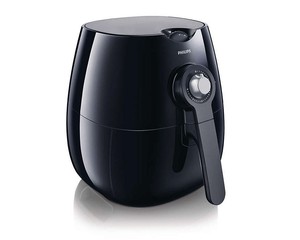 Buy This Item
ebay.com
Features
Type: Airfryer
MPN: HD9220/26
UPC: 00858732006445
User reviews
Had to buy one. All my friends and family said they worked great. I was surprised at the size. Nice quality. Big. I was surprised how fast it cooked. And everything was crispy the way i like it. Takes a little practice on the timer and heat with different foods. French fries, tator tots, onion rings, soft pretzels and fish sticks are my favorites in it. Very easy to clean. I give it an A+++
...and has maybe used it once or twice in 8 months. I honestly can't give a review of this, because I don't personally use it myself, and she hasn't used it enough, or hasn't told me about it one.
Bought this because I like French fried , tofu frying no oils. I don't eat meat or chicken , I have no ideas. Foods came out is eatable , drier , compared to regular oil cook, but it is better for my health. Machine is bigger than rice cooker , noise is like the fan when is on. The good thing is my hubby can use it without my help...
Best air fryer. Powerful, and really cooks and crisps food great. I haven't used my regular oven since I bought this. Beware of others that dont have a minimum of 1425 watts of power. Recomend.
I am addicted to certain fried foods, but as an adult I am reasonable about my consumption and intake of them. Enter the Airfryer. Little to no oil. No wasted oil. No guilt. No mess.....my ony complaint (and it's a small one) is that it does make my house smell like_________ ( whatever you're cooking ). I have solved this by placing unit on stove and turning on exhaust fan....or placing unit outside while frying if weather permits.