Pokemon: Let's Go, Eevee! – Nintendo Switch NINTENDO $52.99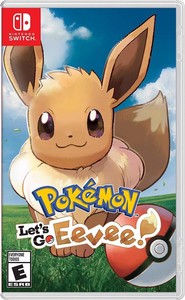 Buy This Item
ebay.com
User reviews
This game is my childhood reimagined and is everything we 90's kids wanted out of a Pokemon game. I got the Eevee console bundle and it is an absolute must have! The themed joycons are nice and sleek, the design of the switch itself adds a great touch with the silhouettes of eevee and pikachu, and the dock matches great with the joycons! The pokeball controller is flawless and all the fun you would think to have with a pokeball in your hands on the big screen! 10/10 game and console and all!!
Even though the ship date seems a bit longer than expected it was shipped the same day it was bought!!!
Got exactly what I asked for in a timely manner, and couldn't be happier.
Thank you accurate on time definitely recommend others to buy