Pulsar 2000 Watt Parallel Ready Portable Gasoline Inverter Generator PG2000IS Pulsar $349.99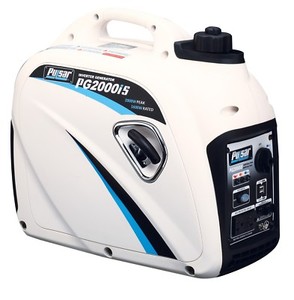 Buy This Item
ebay.com
Features
Tank Capacity: 1.18 Gal.
UPC: 819699010340
Manufacturer: Pulsar
Item Warranty: Yes
MPN: PG2000is
Manufacturer Part Number: PG2000IS
User reviews
I couldn't be happier having bought this Pulsar generator. I opened the box, put in the oil that it comes with, filled it with gas and it started on the second pull. (I didn't have the choke on for the first pull). It is so quiet that if there is any other noise in the vicinity you can't tell it's running. I took it to my sailboat and plugged it into the shore power, then turned on the boat three bank battery charger, some cabin lights, a Ryobi battery charger, and the TV. While the shore power was plugged in I plugged in my skilsaw worm drive saw into the second AC receptacle on the generator. The skilsaw draws 13 amps. I held my breath and pulled the trigger to cut some marine ply. The Pulsar revved up and smoothed out without skipping a beat. I ran it for three hours the first day. Hoorah, I bought a Pulsar.
Generator appears to be very well made , starts easily usually on second pull , needs to be choked , runs smooth and steady but will not pull 1600 watts ! 1250 watts is about all that can be squeezed out of this unit , any more and engine " hunts " for rpm . I called tech and he agreed with my figures and offered me money back . It runs so smooth at 1250 watts and below I decided to keep it . Have owned 10 other generators at one time or another including the red one but this one just runs too good not to keep . Lightweight and very attractive . I have bigger generators if I need more capacity. If 1200 watts will meet your needs I would highly recommend this unit especially at the price . Bob in Omaha .
This 2000 W generator runs my RV air conditioner and starts it up every time it is a 13,500 BTU unit. This thing out performs my Generac 2000 W inverter in every way it's quieter runs better has more neat features and handles about 300 more Watts than an equivalent 2000 W Generac. But what impresses me the most is how it starts by Rv air conditioner with no problem at all and that's very unusual for a small 2000 W generator if you want to look it up on YouTube search 2000 W pulsar generator versus Generac 2000 W generator and you might see my video. Or search 2000W pulsar generator starts RV air conditioner. I'm actually going to return the little 2000 W Generac because I'm not impressed at all. The Generac won't even begin to try to turn the air conditioner on or start it up I tried 10 different ways and there's no chance of the Generac starting the air conditioner but the pulsar does it every time.
Pulsar Generator (PG2000IS), what can I say? This thing is awesome, I put in included oil with included funnel and 1 gallon of gas in it, turned gas breather to on, turned economy switch to off, turned 3 in 1 switch to choke, then was pulling lightly to find resistance on recoil handle and it started on first pull, (kind of), never found resistance it just started. I than let it run about 30 seconds and turned 3 in 1 to run and it balanced right out, after I turned economy switch on it got really quiet and smooth. Now I let it run about 1 ½ hours with no load on economy mode wail I rigged up a ground stake. I used a piece of ¾" electric conduit pipe 2' long and 12 gauge copper wire and attached it to grounding terminal. I hooked up my hammer drill and it just keep on running. Then I connected my 14 amp Ryobi circular saw, the red overload light flickered for a split second and went off, ran great even with a load on it. I expected the overload light to do just that beings generator is rated for 13.3 amps. I cut a few boards. Last I plugged in a 3"x21" belt sander and ran it for about ½ hour nonstop, no issues, just keeps running. I shut unit off for 20 minutes and it started just like the first time, first pull. After 3 ½ hours of running I plugged in a dorm size refrigerator, it pulled down a little (no red overload light) and it smoothed right out again, still on economy setting. I let it run for about an hour and shut it down again for the night. Morning, I started it up again (first pull) to let my gallon of gas play out with refrigerator running to see how long it will run on a gallon and so tank would be empty for storage, that only took another 11 1/2 hours. So total run time on 1 gallon of gas was 15 hours. I love my new generator and would advise anyone needing one in this category and rating to buy one, you will have no regrets
Has the instructions stated that changed the oil at the 5 hour mark , I will also change it in another 5 hours just because . Took three pulls to start the first time but of course pulling it from the box after that only takes one pull to start right up I ran it on a load of 1500 watts after letting it run with no load for 20 minutes handle the 1500 watts like a champ then I bumped it up to 1800 watt right after no issues put it at the 2000 Watt Max Run the overload light came on as expected since this was the max output then I lowered it no issues at all is pretty quiet and about 20 feet away it is super quiet this unit was recommended to me by a buddy for a pop-up trailer you will not be disappointed not quite sure on how long the fuel will actually last at 1500 watts but I will find out this weekend and no it is not a Honda but I do not regret and I purchase great product five stars no tissues there was a review earlier someone said that the bolts or screws came loose by the exhaust the plastic cover I have not had any issues myself with anything being loose. And the packaging was great no damage to product all parts were included as stated