Remo+ DoorCam World's First and Only Over The Door Smart Camera Remo+ $99.00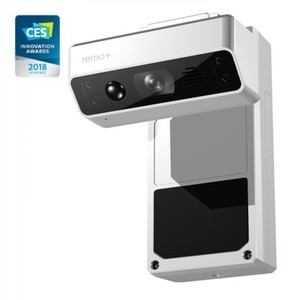 Buy This Item
ebay.com
Features
Connectivity: Wireless
Wired/Wireless: Wireless
MPN: DCMU-1706
Smart Home Protocol: Wi-Fi
Features: Video Recording, Night Vision, Easy Setup, 2-Way Talk, Motion
Smart Home Compatibility: Amazon Alexa, Google Home
UPC: 850970008007
User reviews
It was easy to install & setup. Great quality picture. I get many alerts a day as camera picks up every car that passes and every person walking down the street. For myself, I would like to see an option to "crop" the camera's vision to my front door and mailbox for example. I would also like to see an option to turn-off the system as I do not need 24/7 coverage. There is a "select all" feature to trash all the alerts at one time. Nice quality and at a great price. Yes, I would recommend.
I ordered this product thinking it was a great idea. However when it came I discovered my door has a metal insulation track around it which the product does not fit over. I considered cutting a piece of the insulation track off to make rook for this but then realized that my front door is taller than my storm door. So even if I did make room for it the camera would just be looking at the wooden header over the screen door. I decided to keep this and put it over my side door where these issues did not exist. I have a side enclosure and the mailman puts our packages there so this will help me keep an eye on that. It works great and has solid video quality. Super easy setup and entirely wireless.
Received my doorcam recently, and it took all of about 5 minutes to set up and get working. I need to try the low sensitivity setting - on the medium setting, it picks up cars driving by about 150 feet away, and my flag waving on a windy day (25 ft from the camera). Incredibly easy to install, easy to use, and was exactly what I wanted in a security camera. At some point, I may get a second one for my back door. I live in a safe neighborhood, but you can never be too careful, and Remo+ really does the trick.
Overall, the camera works as described. I rent an apartment and purchased this camera for two reasons: (1) my door does not have a peep hole, and I wanted to be able to see who was on the other side; and (2) I wanted to keep tabs on packages left at my door. The camera accomplishes both of these goals. Installation and setup was very easy. I have not had it long enough to see whether the battery life is as described, but so far I have had no problems. The picture quality, though not the best, is good enough. My main complaint is that the recording misses the first couple of seconds after motion is detected. This is not a deal breaker, but it is somewhat annoying. Also, the app could use a little work, particularly when it comes to the live view.
Great product. 5 Star. This remo+ over the door camera is the perfect solution for at the door monitoring. Very easy and quick to install and setup. It has great features like, long battery life, very clear HD video, wide angle lens. 2 way communication, motion sensor, infrared night vision. Links to your cell phone for instant notifications and live viewing from anywhere in the world. Highly recommended this over the door camera to anyone including family and friends.