Ring – Wi-Fi Smart Video Doorbell – Multi Ring $99.99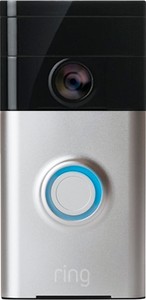 Buy This Item
ebay.com
Features
Manufacturer Warranty: Yes
MPN: 88RG000FC600
Warranty - Parts: 1 Ao
UPC: 852239005024
Warranty - Labor: 1 Ao
User reviews
I have 2 of these ring doorbells and they are great but have some issues. I have cable internet with 60meg. The video doorbells seem to have a delay before you can see someone that sets off the motion and have some false signals at times. The option that lets you talk to the person at the door is not very good quality. The good part is they are easy to install, they will work off rechargeable batteries so you don't need to have doorbell wiring to use them. The video is also stored on the cloud so if something does happen you can't loose the video even if someone steals the unit from your house to try and destroy the video. Overall they are good but need some upgrades from ring to make them work a little better.
Product works just make sure you use it where weather wont directly impact it. Meaning, rain or snow. I suggest using it on a porch with roof covering will last longer. Video Quality looks like you are looking through a peep whole and is not HD. Does not come with live view although you can contact ring directly and they will add the live view feature to you account. Takes atleast 48hours for a response. The motion detector is delayed but that is understandable because it detects motion signals your phone and by the time you open the phone the person has either already walked passed or left the porch. but that with any system even nest cam is slightly delayed I have those as well. Overall product works well, I would recommend to anyone looking for a little bit more security for package drop off help. I you need realtime feed then you would be better off installing a ring cam or nest cam in you front window to catch anyone approaching your yard. This door bell is designed to give you an automatic answer function and to give someone the perception you are home but just can answer the door. It is not a burglar alarm system, just a video door bell!!! This product should cost around $75 bucks at max.
I really like this doorbell. It is easy to install and for a few weeks has worked to perfection. The hardware is designed well and seems to be robust. The camera has a fisheye style lens and is a bit too much in my opinion, but this is ok. The quality of the video is a bit low. The resolution is fine, but the bitrate for 720p video seems very low -- I assume this is to save battery life - which is rated at 1 year. If this is true, I will accept this trade-off as a matter of convenience. I think the online storage is overpriced for the video storage. $30 annually to store the videos seems a bit high to me when I am already paying for online storage from dropbox, onedrive and google. I would like very much to either have local storage for the videos or to pay a smaller fee (say $5 per year) to store these videos on the provider of my choice.
this is a great device as far as the features included in this device... in addition to the video doorbell there is a motion detector that allows for additional security and the range of detection is adjustable to over 30 feet from the doorbell... the camera has an infrared camera which is okay in the closer range but not so good at the furthest reaches of its motion sensor range...the sensitivity of the device is adjustable as well... if you are interested in the motion sensor feature i would recommend that you take advantage of the ability to hard wire the electrical source instead of using the rechargeable battery which will quickly be depleted and you will have to remove the battery and manually charge it... in order to have access instances when the video was engaged other than the current instance you will have to pay $30 per year after a 30 day free trial... there is a separate chime available for purchase so that an audible tone will play inside the house otherwise you have to have the smart device that has the app downloaded on it to hear the chime go off...the app cannot be downloaded onto a windows device...
I am very happy with this purchase. It was a great value. However, installation was problematic. Once I installed the base, I tried to install the front piece (containing the door bell, camera, etc. It was almost impossible to install. I had to take the base plate off and put the front piece onto the base plate several times so that the inserts could get "broken in." Once this was done, the installation of the face plate was easier and finally accomplished!