Rockville RBG15S 15″ 1600w Active Powered PA Subwoofer w/DSP + Limiter Pro/DJ Rockville $249.95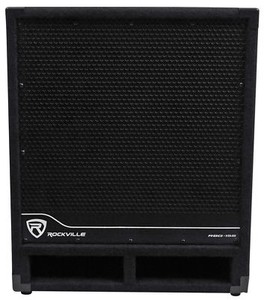 Buy This Item
ebay.com
Features
Model: RBG15S
RMS Power: 1600 W
Active/Passive: Active
MPN: RBG15S
Features: Input Gain Control, Adjustable Cutoff Freq., Amplified, Portable, Frequency Control
Type: Subwoofer
UPC: 811080022321
Bundle Listing: No
Modified Item: No
Country/Region of Manufacture: China
User reviews
The folks at Rockville hit it off with this! I've had this for quite a while now and all the venues I've had this at it's never disappointed. The built-in crossover is a bit querky but for the price you can't beat the value and the sound this thing will bring. I just recently upgraded to ZLX15P speakers and this compliments them very well. As far as outside goes this will bring the bass no problem, I've had neighbors complain about 2 blocks away so if that doesn't tell you anything I don't know what will! Last part is the inputs selection. You get xlr and rca inputs so flexibility is key here with this. In conclusion if you are on a budget and looking to get a cheap but quality sub then you will be very pleased with this one, powerful yet lightweight for ease of transportation. Also has a pole mount on top if you don't have a tripod setup.
these are definitely not great subwoofers and a bit on the heavy side. they do work as described and on a budget are worth the money. work good for acoustic shows or small venues.
I just received my 15" Rockville Sub. I've been running 2 Behringer 18" subs for a few years, carrying amps and stuff. Too heavy and I just don't want to carry all that stuff. I played my single Rockville RBG 15S today for a few hours in the garage and it just about ran me out of the room. It took a bit to get it adjusted, but it is just as loud as my 2 18" subs are. It weights about 74 pounds so you'll need a dolly to carry it. The bass boost is awesome! I've got it turned most of the way down and listened to lots of different kinds of music from rock, pop, urban/hip-hop, classic rock you name it. It sounded really good! I'm not sure if I really need 2 subs, this is for a smaller set I am building for small venues. I'll try it out at a school this weekend and see if it fills the room like I believe it will. Deep full bass is what it produced. I have all my audio running out of an equalizer into the sub the out to my powered tops. I actually had to reshape the bass down because it was too much and way too loud. I still have some tweaking to do on it, but it is a good subwoofer. ...and I still might buy another one, even if I don't need it. The price is right!
I wasn't sure what to expect, but at $250, what the hell.. What I got was some heavy bass cabinets that provide some solid bass. I won't say they are the best I've worked on, but they are decent, and loud. I was hoping for a better low frequency response, but that's just a sound engineer being picky, I guess. The electronics on the back panel are easy. I selected extended bass response to get them as low as I could, and switched the crossover to 80 hz to clean up the sound. Ideal gain setting for me has been about -6 db. I paired them with some Mackie 15" tops which sound beautiful. So my need was more definition than anything else. Overall, great value for the price. But these things may be a little heavy to be lugging around regularly. Use a hand dolly! Recommended..
I recently purchased this sub a few months ago. After using this now I can report with confidence. I do highly recommend it. The bass is smooth and rich. I have the bass Hz knob set to the middle position. Pounding smooth jazz bass sounds terrific. If you listen rap, consider maybe the 18". The overall sound is very powerful and loud if you need it. If you DJ, 2 15" will rock the house for medium venue. Cooling fan is clearly audible in quiet environment. Cabinet is heavy/ sturdy, well made. Cost comparison to name brand is very affordable, I recommend trying one. I'm a fan and would buy again !