Rockville ROCKBOX 6.5″ 100 Watt Portable Rechargable Bluetooth Speaker w USB/SD Rockville $59.95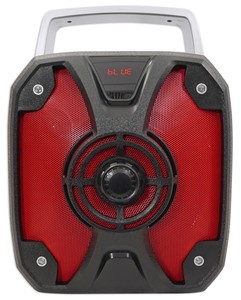 Buy This Item
ebay.com
Features
Model: ROCKBOX
MPN: ROCKBOX
Features: Bluetooth, Rechargeable Battery, Bluetooth Wireless, USB Charging Port, Volume Control
UPC: 811080028996
Country/Region of Manufacture: China
Type: Portable Speaker System
User reviews
I have compared several boxes on the market . Based off claims alone, this box seems to have the most bang for its buck. For the features it has you really cant find anything that compares. It has a decent sound quality . One the i may mention that this box is very loud. I use it to play ball outside. Street traffic is no match for the volume capability of this unit . I recommend this unit to anyone looking to get a good box for a good price. If you are someone that wants bose quality this is probably not for you .
Disapointed in rockville standerds going down hill my rpb smaller rockville is of better sound quality this thing souds very unbalanced for a bluetooth this is the worst of their prod... I allways bought RV so why the false addvertising sounds like an over done 45 watt no bass mids voice ok overall a 2 in quality and sound re do it my high expectancy in their products leaves me sad of a good brand. Wish I had a decibel meter 45 Overdone watt sound at full volume highs and lows drop at higher volumes as it doesnt cut the desctiption.😭😭😭
This very constructive review is based on one day of usage for the speaker from the moment I unboxed it. ----- It's definitely loud, and the driver can deliver a good kick, but some low frequencies are barely audible; my Rockville APM5 monitors are under five inches and just one of them can deliver a clearer and more powerful low end, but I'll give the Rockbox the benefit of the doubt, since comparing a 125 Watt studio monitor to a 100 Watt portable speaker is not a completely fair comparison. The speaker does distort when using Aux mode. Via Bluetooth mode, there's much less distortion, but the downside of using Bluetooth on it is that there's a latency of over 20 ms, so MIDI interaction is not the best with this speaker. The SD/TF card mode works wonderfully with clear audio, but a huge problem is the indoor/outdoor feature; there are three loudness modes (PLA, ind, nor) and only on normal mode does it sound good, but the other two modes are a distortion craze. The FM Radio works, but I'm having trouble with its interface; it's not possible to use the 0-9 number buttons on this mode, which I assumed would've been useful for preset station selection. This speaker has an annoying amount of static noise when connected via Aux mode or when it isn't playing anything in Bluetooth mode, even when the volume is turned down all the way. The treble, bass, and volume knobs are extremely sensitive; a slight change affects these a little too much. Finally, there's too much mid range, which is even worse when you can only adjust the bass and the treble, which is horrible for some music. A very marginal annoyance is the placement of the on/off switch, as it's pushed against my back in my backpack (yes, it fits in my backpack and doesn't look weird), which causes it to turn off accidentally. Now that I've mentioned all the downsides I could find, this speaker is: - very loud for its size AND weight, at around 6Lbs/2.7kg - long-lasting, as I only charged it overnight and is still kicking powerfully - cheap! - made by a brand I purchase from often - rugged - recommendable for a portable solution Great job, Rockville!!
After a couple of weeks I can say that this speaker rocks. Nice sound quality it gets loud with no distortion and has a lot of cool features. I use it as a portable guitar amp and it sounds great. The ability to use the aux input with the mic input makes it a perfect little practice amp. I also use it around the house for everyday music. Great speaker you can't get a better one for the price.
The Rockbox is ok for the price. I expected more bass, even after reading reviews. It would be nice to have some kind of gauge to let you know how much power is left. When battery runs down it just stops. There is no tone, beep, light, or decrease in sound alerting you to this. When charging, there is a very small red light that I assume goes out when it is completely charged. You can barely see it. There is nothing in the instruction booklet that says anything about this little red light. I'm guessing. This is an item that you get what you pay for.