Rockville RPB24 Portable Bluetooth Speaker w/4000mAH Powerbank+30 Hour Battery Rockville $19.95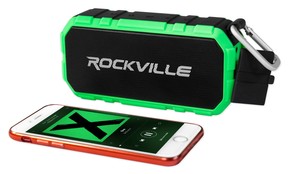 Buy This Item
ebay.com
Features
Features: USB Port
MPN: RPB24
Bundled Items: Wall Power Adapter/Charger
UPC: 819216022092
Country/Region of Manufacture: China
Model: RPB24
User reviews
Have had it for a few now and its sound quality is good. Battery life is good idk about 4k mah tho.. not very loud unfortunately. Bass is fairly decent given its size i guess.. I feel youre really paying for the water resistance. Ive had smaller speakers that were a bit louder so thats pretty disappointing. Also there is no volume adjustment which is also odd. I personally would not buy again nor would i recommend this to anyone.
If you are looking for a great sounding compact Bluetooth speaker and not wanting to shell out a lot of dough, then buy this speaker. It may not be the loudest but for it's size the sound is very good with a nice mix of highs and lows. When played at full volume it sounded clear and there is very little distortion. You won't be DJ-ing house parties with this speaker but perfect for small gatherings. The speaker is solid and feels well made with quality materials. It is virtually indestructible. I've dropped it already several times and it is unblemished and never missed playing a single beat. The speaker is also waterproof/resistant so you can take it in the shower with you or to the pool or beach. With the included caribiner you can clip it on your belt or backpack and take your jams with you anywhere. The battery lasts for a long time. On one charge I've played it for several hours a day for 3 days and its still blastin out the jams! You can also use the speaker while its charging. And as an extra cool bonus feature, you can use the battery as a power bank and charge your USB devices with it! The speaker also has a call answer feature but sometimes I found the connection didn't sound great. All in all a great value and well worth purchasing. And for under $30.00, I'm really glad I did. I would even recommend it to complete strangers on the street.
not for me i cant understand how to use it
For the money this is a great speaker. The volume is a little tricky. You must press and hold the right hand arrow to increase the volume, if you just press once it will forward to the next song. That is the only confusing item on this speaker.