Samsung Chromebook – 11.6-Inch, 1.7GHz, 2GB RAM, 16GB SSD, HDMI Port Samsung $84.99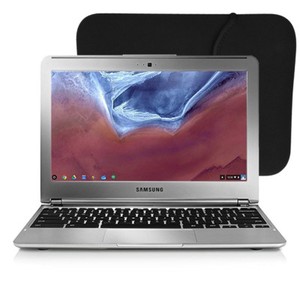 Buy This Item
ebay.com
Features
Manufacturer: Samsung
Color: Silver
Product Line: Chromebook
Type: Notebook/Laptop
Model: XE303
Processor Type: Samsung Exynos 5 Dual
Operating System: Chrome OS
Hard Drive Capacity: 16GB
Screen Size: 11.6"
Graphics Processing Type: Integrated/On-Board Graphics
Processor Speed: 1.70GHz
MPN: XE303C12A01US
Memory: 2GB
UPC: 783629340404
User reviews
Arrived two days earlier than estimated. Packaged securely in plain brown box. Chromebook in lightly used condition as described. Works as it should. Only things I noticed are the sd card slot cover is missing and the power supply port plastic is slightly cracked. Neither of these two things interfere with functionality. I am delighted with my $80 deal! The Hex case was an added plus! If you are expecting pristine buy new. If all you want to do is surf the web, listen to music, watch vids, save some $ and a few little imperfections won't bother you then get one of these units. NOTE: Chromebooks are not for someone who needs a full blown laptop.
Pretty good unit. Web browsing is quick and everything is fast and responsive. I even installed a quake engine and played quake on it. It ran just fine. Smooth as butter. Only problem I have with it is you can't run the google play store and install android apps on it. 16GB SSD is VERY small if you want to install linux, and as other's have mentioned neither it nor the Ram can be upgraded. If not for these issues would have been 5 stars.
Exceeded my expectations. Such a relief from Windows! It does everything I need & want. I was able to turn in my clunky, heavy laptop because I have a lightweight, faster machine with longer battery life. No annoying Windows updates. Does not have lightening speed, but fast enough for me to use internet based electronic health record at work. I recommend this nice little machine, and would buy it again.
I was unaware this was netbook a student issued from a school for academic use, and it was network locked. I had to call manufacturer to get assistance on a reset and installing new setup. It would be helpful to include such info in description. The netbook works fine now after reinstalling software setup and my daughter likes it very much. Price was fair but description lacked key info. Over all we are satisfied with the netbook purchase.
I was looking for a lightweight and compact option for web browsing. I have a full size Asus laptop but it is heavy to carry all the time. This fits in my larger purses and doesn't weigh me down. Chrome's limited apps takes some getting used to, but all in all I would recommend for surfing the web and basic functions. I have added a bluetooth mouse but the touchpad would work fine. An external harddrive is perfect solution for my needs. I would purchase again