Samsung Gear S2 Classic (Verizon) Android Smartwatch w/ SMALL Leather Band Black Samsung $109.99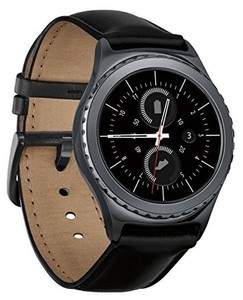 Buy This Item
ebay.com
Features
Color: Black
Screen Type: Super AMOLED
Model: SM-R735V
Series: Samsung Gear S2
Operating System: Tizen
Screen Resolution: 360 x 360 pixels
Compatible Operating System: Android
MPN: SM-R735
Band Material: Leather
Network: Verizon
Bluetooth Compliant: 4.1, A2DP, AVRCP
Band Color: Black
Screen Size: 1.2"
UPC: 887276161846
User reviews
Charging cable was broken when I received it. I had to use my own personal phone cable to get the charger to work. Also the leather band is very uncomfortable and makes the watch press too tight on the sides of the wrist, which ends up cutting your blood circulation and makes your hand feel tingly. I had to order a Milanese Magnetic Loop Band seperately because they are much more comfortable and fit any wrist size without any discomfort at all. The watch itself is in perfect condition and works flawlessly. Overall, for the price you pay, it is definitely worth it if you're in the market for a high quality Samsung watch on a low budget.
While I like the watch there are some issues with the item charger and the item itself. 1- The USB cable sent was a mini USB not a Micro USB as the charger required. Fortunately I had a micro USB cable to use. This is the reason for the low ranking. Had I not had a spare cable this item would have been unusable without additional purchase. 2- The bezel is discolored. I tried to capture this in a photo however it didn't show well. Essentially there is a rainbow haze on the rotating bezel. 3- The item was shipped in a soft sided mailer. There was no hard protection against impact or scratching.
I broke down to get this because it looks nice and does all the things I want from a watch and fitness tracker. My hatred for Samsung goes back to the 3 Galaxy G2's or 3's I had.. can't quite remember but I really wanted to publicly destroy that P.O.S. phone. Had numerous problems and was basically no better than that rotary phone grandma had. So far this smart watch does the things I want and isn't buggy... I will be travelling soon and we'll see how it works without connecting to a phone on a data connection.. These are the true tests of these devices because the engineers who are programming them should account for things like "does gps feed my location in absence of a data connection", and "can the watch still tell me the time if its not sync'd to my phone"... we shall see... I can tell you a few things so far... sleep detection works like a charm.. automatic detection of a bicycle ride does not. Next time I'll manually set it and see how well it captures a bike ride. I rated it highly because it's basically the only option to track tennis, cycling, sleep, heart-rate and looks nice.
Highly recommended if you are an Android person. Item is really nicely made and easy to use. Very instinctive. Looks aren't everything but this one blows the Apple Watch out of the sky. Magnetic base for recharge is really cool. Only minor downside is that battery life isn't exceptional. It was very easy to pair to a phone and also with the app it's possible to make changes to the watch.
If I were to buy again, I would have gotten the "3" for the features. When you watch videos, they do not show you the true feature differences in the phones. Still, I like this one for now...It looks good and does some of what I was expecting. If you want a watch that works as a standalone phone, however, go with the "3". Came in pristine condition and works great though.