Samsung Gear S3 Frontier Dark Grey Bluetooth Smartwatch SM-R760NDAAXAR Samsung $144.99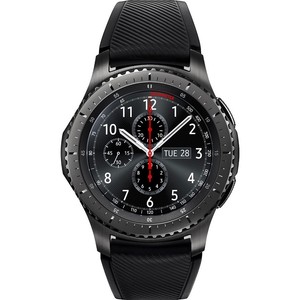 Buy This Item
ebay.com
Features
Band Material: Silicone/Rubber
Case Size: 46mm
Compatible Operating System: Android, iOS - Apple
Case Material: Stainless Steel
Operating System: Tizen
Manufacturer Band Color: Black
MPN: SMR760NDAAXAR
Storage Capacity: 4GB
Band Color: Black
UPC: 887276184326
EAN: 0887276184326
User reviews
After upgrading from a Galaxy S7 to the Moto Z Force I was sad to find that my old Samsung Gear Watch would not pair with my new phone. I looked long and hard for a suitable replacement because I became very accustomed to my wearable technology watch. After multiple attempts to download apps and pair my old watch with my new phone I was rightfully concerned that the new Samsung Gear S3 Frontier would be very time-consuming and tedious to pair with a Moto Z, but I was completely mistaken. Once the watch was powered up it prompted me to download the appropriate Samsung Gear app, enter my email address and a memorable password and after a few short very simple to follow steps the watch and my new phone are paired and they're working perfectly. I am extremely pleased with the fit and finish of my new S3 Frontier and how simple it was to mate it to a non Samsung phone. I had watched several YouTube videos of how to pair previous model Samsung SmartWatches to non Samsung or Galaxy phones and had anticipated a number of downloading and application steps two make the two communicate with each other but as I said before it was completely unnecessary and extremely simple. The watch is fairly expensive but well worth the money if you have become accustomed two wearable technology to stay up-to-date with what's going on with your phone. I look forward to getting more accustomed to using it and I know it will be a very enjoyable experience. The one sacrifice of not having a camera on the watch as I did with the previous one is a feature that I will miss but it is by no means a deal-breaker as I am completely satisfied with my purchase. I highly recommend this watch for anyone having a non Samsung phone as an alternative to purchasing one made by Motorola if you purchased a Moto Z as I did. It Is by no means a watch to wear well swimming or diving and maybe one day manufacturers will step up and make something that is truly water-resistant enough for that kind of use but the water and dust repellency is more than adequate for daily life and besides I have plenty of other watches for scuba diving and swimming so there again definitely no deal-breaker and this will be my watch a choice for daily wear and all outdoor activities. At almost three bones it is a very pricey investment but as I said before if you are a fan of wearable technology I'm sure you will enjoy it as much as I'm sure I will.
I love this watch it looks great does a great job as a fitness tracker and has hundreds of watch faces available but that is also iys downfall if you have a nice fancy colored watch face be prepared to drain the battery in less than 8 hours. I had it fully charged went to bed with it on to measure sleep and didn't make it through the night. switched to a boring dark colored no frills face and it'll last 2+ days
I previously had a Gear S2 sport, and I really wanted something that looked better for wearing to work and whatever. This is definitely all of that. It looks great, the screen size is perfect, and the Tizen OS is leaps and bounds ahead of Android wear. The full color always on display is very nice too. And the battery with the always on, on, lasts me about 40 hours. Gets me from wake up one day, to bedtime the next. The only real gripe I have with this watch, and the reason it is 4 starts instead of 5, is the fitness software. On this one piece, Android wear wins by a long-shot. Samsung health on the watch is fine, except for the exercise piece. Most of the selections, running, other workout, etc. do not use heart rate to calculate calories. I am using elliptical for my strength training so I have that... It seems like a no-brainer to have the most accurate method of determining calorie expenditure. Also, it needs tracking and rep counts for strength training and such. Google Fit Workout does this incredibly well. Anyway, software can always be improved! So, I'm hopeful for some upgrades. Either way, buy this watch! It is amazing!
Overall, I like the watch. I purchased a black metal strap, as the plastic one provided just didn't quite feel right. Personally, I never wore watches, so it's taking some time to get used to it in general. It works great with my Note 4, never had an issue syncing, etc. The apps seem pretty limited right now, so if I had to do it again, I might just go with a watch that uses Google software. I really wanted something that could just stream my navigation through the watch, but that isn't the case here. I tried the stand-alone app once and it didn't work... just wouldn't stay connected, so the directions were useless. This was a main feature I was looking for and is the reason for 4-stars instead of 5-stars. It's great for steps, quick texts, reading incoming messages (smaller ones) and so forth. I probably haven't began to use all the features yet, so there is much to learn. Overall it looks great and is a nice extension of my phone.
This is really an amazing "Dick Tracy" wrist phone that works well with or without your full phone. The battery life is adequate for a full day's use with the watch face always on (at a dim setting) so you don't have to keep doing the wrist flick thing. (You canNOT do that for a normal day with the LG Sport Watch's less capable battery.) It's cool to be able to change watch faces, but this watches Samsung-only Tinzen software system has limited selection and configuration flexibility compared to full Android Wear compatible watches. I am not a serious athlete and have not spent much time trying to learn or setup the fitness functions, but they mostly seem to be marginally functional or accurate. It has trouble reading the pulse consistently. It randomly calculates, steps, calories, "Floors climbed", inactivity periods, etc. The Samsung pay does not happen to be compatible with my credit card. The voice command interpreter is pretty finicky. In summary, I love the watch/phone as mentioned above, but the rest of this technology has a lot of maturing to do.