Seiko Men's 5 Automatic SNZF17K Silver Stainless-Stee Seiko $126.99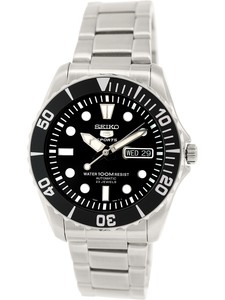 Buy This Item
ebay.com
Features
Band Material: Stainless Steel
MPN: SNZF17K1
Case Finish: Brushed
Title: Seiko Men's 5 Automatic SNZF17K Silver Stainless-Steel Plated ...
Watch Shape: Round
Style: Fashion Watch
Display: Analog
UPC: 4954628101440
Case Material: Stainless Steel
AreaTrend Catalog #: 1681923486
Movement: Mechanical (Automatic)
Collection: 5 Automatic
Band Color: Silver
Features 1: Automatic Self Wind Movement
Gender: Men's
Features 2: Case diameter: 42mm
Case Size: 41mm
Features 3: Hardlex Crystal
Face Color: Black
Features 4: Stainless Steel case with Stainless-Steel Plated band
Age Group: Adult
Features 5: Water-resistant to 100 Meters / 330 Feet / 10 ATM
Water Resistance Rating: 100 m (10 ATM)
Color: Silver
Case Color: Black
EAN: 4954628101440
User reviews
Very Professional and a answered every question I had. I can definitely say with confidence that it is genuine and very well made. As my first automatic I am definitely happy I chose this one. Many will say it resembles the submariner so they prefer going with the SKX which I respect but with so many copies of the submariner made by so many compagnies I think that this watch still has its own style and amazing quality. I definitely recommend wearing it with different strap. 10 styles one watch 😉 Enjoy 🙂
This is a great watch the lume is unlike anything I've ever seen I work night shift and I can hit this with a light for 30 seconds and it will glow for well over 3 hours and it's keeping really good time it loses about 2 seconds a day that's as good as a Rolex definitely recommend this automatic especially if it's your first automatic you won't be disappointed
This is my first Seiko and I am super happy I got it, I just love it !!! Everyone has to ask... a real eye catcher, build SOLID!!! the quality is top notch, I have small wrists and its super comfortable, I would recommend to anyone!!!
What can I say for that watch. Seiko really managed to win the Swiss in their own area of expertise: automatic watches. Some of the drawbacks: mechanism non hacking, low beat , not sapphire crystal and not self winding mechanism. But thats about what you get for a watch of that price (and more!!!).
Terrific watch! Feels very "quality." I got a great deal - $110, and it really seems like a more expensive watch. There are a few things I would change if I could, but they are only matters of personal preference, not quality issues with the watch: *The bezel markings are bare steel. Kinda wish they were painted white. *The day/date are white text on black background. For me, the other way around is easier to read. *The coin edge of the bezel could be more aggressive. It's kind of smoothed over. *I wish the pointer on the bezel had some lume. It doesn't. *Wish it came with some sort of storage/display box. It's a nice enough watch to deserve that. Those are the only petty complaints I have, and like I said, just personal preferences. If you're debating with yourself whether or not to get one, I say DO IT. Check out the YouTube reviews of this watch, (look for Seiko Sea-urchin) and you will see, pretty much everyone is impressed with the value it offers for the money.