Smokehouse Little Chief Front Load Smoker 9900-000-0000 Smokehouse Products $94.00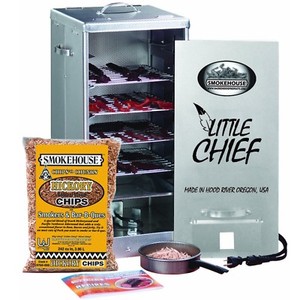 Buy This Item
ebay.com
Features
MPN: 9900-000-0000
Model: 9900-000-0000
UPC: 876628001442
User reviews
Great Fun, East to use and completes all projects to perfection. Nothing bad about this smoker. I have worn out two other smokers over fifty years and would not have any other brand. Well made and designed for the novice.
First time use was a great success. Thin fish fillets smoked with applewood, yum! Great instruction and recipe booklet. Follow the "brining" instructions and recommended "smoking" based on type of meat (fish, chicken, pork, etc...) and cut sizes (thin, thick, strips, chunks, etc..). Remember, this unit is intended as a "smoker", not a cooker! So, be sure the meat you smoke is brought up to recommend standard temperatures for finish cooking by conventional methods (pan fry, baked, broiled, etc...). If this is your first time eating "smoked" foods, be aware that the "smoke flavor" can be intense and some what over powering to the taste buds, even bitter. Initially, I would recommend a "light smoke" (a 1-pan smoke) in the early smoking experience with finish cooking by conventional methods. As your tastes evolve using different woods, then increase smoking times to desire intensity . Keeping the smoker "clean" is a relative thing. For me, keeping the racks/grills and the drip pan clean is an absolute necessity. I always line my drip pan with aluminum foil and coat (spray or brush) my racks with vegetable cooking oil before each use for ease of cleaning. Immediately after a smoking session, I put my drip pan and racks in hot soapy water, let soak for about 15 minutes, lightly scrub with dish brush, rinse and let air dry. Putting the pan and racks back in the smoker afterwards reduces prep time of next session. Keeping smoker box clean is another issue for me. Remember, the smoke box is sheet aluminum and this is a "smoker". So, the smoker box will show darkening around the openings and seams and especially the inside. Just as the smoke darkens the meat it darkens the box. As the use of the smoker increases so will the accumulation of smoke residue. If the box gets unbearable to look at, then remove the electric heating element and clean inside and out as you would any "aluminum" grilling equipment. Be careful using "caustic" cleaners for ovens. Use only those products intended for use on "aluminum". Some oven cleaners will eat into the sheet aluminum. Enjoy "smoking as we are doing.
I like it fine, but the claim that it will hold up to 25 pounds is absurd. 4 pounds of salmon pretty much filled it to the brim. The wood chips that came with it are too fine. I buy mine from the local hardware store
The ease of loading the meat allows for quick checking when smoking.
This item was an Xmas gift so no idea how it rates on functions