Sony a7 II Full-Frame Alpha Mirrorless Digital Camera Body 24MP Black Pro Bundle Sony $898.00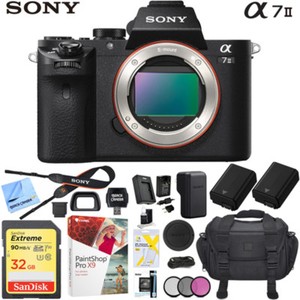 Buy This Item
ebay.com
Features
Series: Sony Alpha
Digital Zoom: 4x
Screen Size: 3.0"
Weight: 19.61 Oz.
Connectivity: USB
Battery Type: Lithium-Ion
Megapixels: 24.3MP
Features: Auto Focus, Interchangeable Lenses
MPN: ILCE7M2B
Color: Black
UPC: 027242888722
EAN: 0617689596757
User reviews
I bought this to shoot video. It is the cheapest full frame camera you can buy, and besides that, I got a great deal on a used one that showed no signs of use. I've never had a Sony before, only Canons. It took me a little while to warm up to it, but like it now. I got a couple of adapters to use my vintage Canon and Nikon lenses, so I've really gotten a lot of mileage out of this purchase. I have the A7, but the A7s is better for video because of several features, which is why I didn't give it 5 stars for features. Beware of the Alpha models because of it's difficulty with blue LED lights - they create havoc with these cameras. You'll have to research that topic to learn more, but you should not get one of these if you plan on shooting stage performances or even weddings. That's the reason I didn't give it 5 stars for picture quality. It's as solid as a rock and feels great in my hands. I dropped it taking it off of a tripod from about 5 feet onto asphalt. The lens took the brunt of the fall and I had to search hard to find a small scratch on the camera, but the great thing is that it didn't phase it one bit. Even my vintage Nikon 50mm lens is still working ...the beauty of metal construction. I see this as a workhorse type of camera that gives great quality shots. If it weren't for that LED issue it would perfect.
I absolutely love this camera. I have reignited my love of photography with this camera, and previously the NEX6. I got my old Contax Zeiss lenses out of the closet, dusted them off, and with a little adaptor, put them to use. The manual operation did not put me off, in fact it got me more involved in the making of a picture, and now I don't even like the autofocus gear any more. The Sony A7ii is superbly made, and it truly is one of my best purchases ever. Like everyone says, just buy a few extra batteries, because they empty out quickly, and enjoy this great camera.
This is simply a great mirrorless camera, with an amazing image quality and dynamic range. Image stabilization works perfectly and, combined with a good high-iso performance, helps a lot when shooting in low light scenarios. I haven't explored all of it's capabilities, but so far so good.
I bought this camera specifically (and exclusively) for adapting my classic and vintage lenses to it. Why? Five reasons: It's full-frame, you can adapt almost any lens mount to Sony's e-mount, focus peaking, EVF magnification, IBIS (SteadyShot.) Those five features alone are worth the cost of this camera.
I have tried a lot of cameras. This Sony a7 II is cost-wise and photo-quality wise a great camera. After trying many of the cameras in the $500 to $1,500 range, I decided to keep the Sony a7II and Sony a6000. Love both of those cameras. Both of them take excellent photos.