Sony Alpha A6300 24.2MP Mirrorless Digital Camera 16-50mm Power Zoom Lens Black Sony $767.98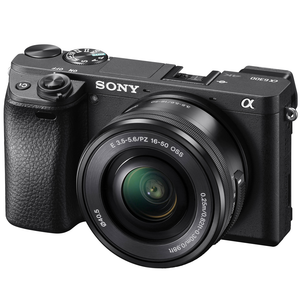 Buy This Item
ebay.com
Features
Connectivity: USB
Optical Zoom: 3x
Megapixels: 24.2MP
Weight: 12.73oz.
MPN: ILCE6300LB
Battery Type: Lithium-Ion
Color: Black
UPC: 027242891074
Series: Sony Alpha
EAN: 0027242891074
User reviews
I purchased the Sony A6300 as a travel camera. My main camera is the Sony a7sii which is a $3000 camera body. The Sony a6300 Image quality was the same if not better that my a7sii. The kit lense thought is nothing specal. Since it it motorized it lags behind if you want to do a fast zoom or focus. Overall I would purchase this camera again, if there wasn't a new model out. The A6500 provieds image stabilization and better heat dissipation. I deffently would reccomend the A6500 over the A6300, but if you are a lite user this camer is just fine.
This is a great mirrorless digital camera for the enthusiast or "pro-sumer." After all, check out the review on YouTube that Jason Lanier does!! It takes excellent pictures, does great in low light (images are usable even at ISO 3200 & even 6400). There are a lot of lenses available for the Sony E-Mount cameras. It does 4K video and even has 120 frames per second in 1080p! My only complaint about the camera is the fact that it's not great for "run n' gun" style shooting. If you're simply adjusting the aperture, ISO or exposure time (shutter speed), then sure you'll be fine. Otherwise, other settings you might want to change is in a menu. Maybe I've just been spoiled by using cameras that have lots of knobs, dials, buttons and switches.
So far I LOVE this camera. For the money, nothing out there touches it. The electronic viewfinder is as good as any mirror in a DSLR and the autofocus using Sony lenses is accurate and VERY fast. I use a Fotodiox Canon to Sony lens converter for my Canon lenses and the auto focus still works quite well in decently lighted situations, not near as quick as the e-mount Sony lenses but great for situations where you can take the time to get the focus right. The video really is stunning... as good as any full frame DSLR or mirrorless camera that shoots 4K. And with the ability to shoot using S-Log-2 or S-Log-3, there is tons of dynamic range to work with in post. The only 2 drawbacks have been: 1) no image stabilization in the body which would be wonderful when handholding and shooting with non-Sony glass (but a non-issue with Sony lenses that have OSS), and; 2) the menu is quite deep and certain functions are a little cumbersome to find in a pinch. However, I came from shooting Canon and anyone stepping up from a lower Sony mirrorless will probably find the menu very familiar. This may be a very subjective thing. In conclusion, the images from this camera look totally pro and rival cameras 3 times the price. It allows you to spend your money on great lenses and still get the most out of them but when it's time to move up to a new Sony body, you won't lose your shirt. What are you waiting for? Go get one!
Thus camera is pretty awesome and is unrivaled in its class. The picture quality is great, auto focus is second to none, the build quality is great, has alot of features and shoots great video. Thinking g about a camera, get this one you won't be disappointed
The packing is incredibly well!!! Just look at all the bubble sheets and memory foams that were used to pack the camera. This packing is the best out of all my online shopping experience in the past 16 years.