Super Mario Odyssey – Nintendo Switch Brand New Retail Pack Nintendo $43.99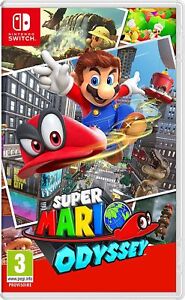 Buy This Item
ebay.com
Features
Platform: Nintendo Switch
Genre: Platformer
Release Year: 2017
Game Name: Super Mario Odyssey
Warranty - Labor: 3 Months
Publisher: Nintendo
MPN: NINTENDO
Manufacturer Warranty: Yes
UPC: 045496590741
Warranty - Parts: 3 Months
User reviews
I love Mario games... played the old skool NES as a kid, loved MARIO 64 in high school, and nothing has compared to 64, for me, until now. This was amazing. Great graphics. Intuitive gameplay and controls. My 6 year old who has only ever games on an iPad latched onto this almost instantly and mastered the controls. I played the game straight through and beat the final Bowser battle in about 10 hours- however there's so much to do, I continued to play and for the next 2 weeks, we play for 2 hours a day and have yet to discover half of what's available. Amazing game. Just buy it already! Get it. Just do it.
Sometimes dangerously engaging. There's always another goal just five minutes away and then suddenly it's been 3 hours. Performing special moves to get places can sometimes be difficult, but getting every single thing isn't necessary to advance through the game so even people like me who can't combo to save their life can enjoy it. Lots to do and discover even outside main plot, and has plenty even after the "end"
DARY! Legendary! This game is incredible in every way. I've played and owned EVERY Mario game, and this one just puts all the rest to shame.. why haven't all their games been this good?? Nintendo did it right this time, people!! If you're considering purchasing this.. let me encourage you: I've never bought a brand new game system... until the switch.. Nintendo wants 300 for the switch... those fools must not realize I would've paid up to five hundred! Mario is my favorite game, and I do not regret the amount of money I've dropped into this. Make the investment, buy the game, it's so worth it.
Excelent game, with incredible gameplay, a lots of secrets, some of them are very challenging to complete, so its a game well balanced, with new players and old ones can enjoy anyway. If you wish to complete 100% of the game, be prepare to play this game a lot, because there is tons of collectables for that! Every Switch owner must have it!
It was expected to arrive around the 24th. It literally got here on the 20th. I was so surprised how fast it came . And so far I've put in about 6 hours . And it's a really beautiful game . Mario 64 successor :)x