Syma X5UW Wifi FPV Drone with 720P HD Camera 2.4Ghz RC Quadcopter Extra Battery Syma $44.98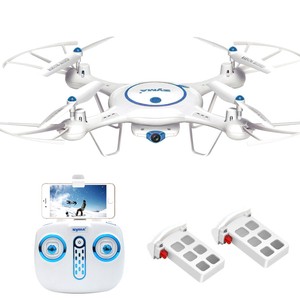 Buy This Item
ebay.com
Features
Fuel Source: Electric
MPN: X5UW
State of Assembly: Ready-To-Go
Type: Quadcopter
Gender: Unisex
Color: White and Blue
Aircraft Type: Quadcopter
Model: X5UW
Fuel Type: Electric
Material: Metal,Plastic
Required Assembly: Ready to Go/RTR/RTF (All included)
Size: 12.6 x 12.6 x 2.8 inches
Features: App Control, Headless Mode, WiFi Control, With Camera
UPC: 606794917007
User reviews
Excellent copter for the novice flyer. Really great to practice fly, trying different manuers, taking off and landing. It also can take a beating by way of crashing off the wall and still works. Except of course if it falls out of the sky and lands on concrete then your out of luck. You'll need at the very least two batteries but you can only fly for about 6 mins on a full charge then you'll need to use another battery. Happy flying !
I had a blast with this little drone. I felt like I was really getting the hang of it, when suddenly, it went rogue. Like, Star Wars' Rebel Alliance rogue. It was flying above some trees near my apartment complex, when it suddenly started flying straight forward, slowly descending, into the street. I went out to the road to find nothing but parts strewn everywhere after the little drone committed virtual suicide. Welp, it was fun while it lasted.
Very sturdy drone. Flies well and isn't complicated for younger children. Comes with all needed hardware plus had an extra battery. Very nice drone set would recommend this drone for all ages.
This thing is tons of fun, but order the replacement parts kit at the same time you order the drone. It's really easy to knock off the propeller guards and/or ding the propellers. Still, TONS of fun.
this copter is very good it handles smooth and hovers excellant i would recommend this to any one that is in the hobby it would be good for a beginner also