U-Shaped Full Body Pillow, U Shaped Pregnancy Pillow & Maternity Support Poraty $37.50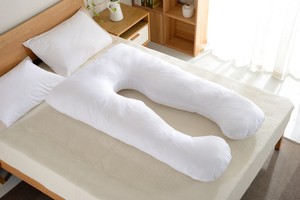 Buy This Item
ebay.com
Features
UPC: 0700161262506
Type: Maternity Pillow
Shape: U-Shape
MPN: GG-H03-1501
Pillow Size: Body
User reviews
I was skeptical about ordering this at first based on the price alone pillows this size are usually double the price. Arrive quickly in a large box that was a bit lighter than I had anticipated it would be and inside was the pillow shrink wrapped into a bag that doesn't do it any justice. Pillow is exceptional and exactly as advertised, arrives quickly and my daughter is in love with her new pregnancy pillow!! Highly Recommend this pillow great quality great price & most importantly a life saver for a good nights rest for Mama & Baby 100% awesome
This pillow really is comfortable! Bought it for back issues. My only issue is that I wish it was a bit firmer, as when using it I need an added pillow to raise my head to a comfortable level. I know things in photos differ, but this pillow is not nearly as firm as the photos (maybe by half) and that is my only issue with it. Other than that it is fairly good.
I love this pillow! I sleep on my side a lot and normally I'm always trying to figure out where to put my arms and wake up with back pain, but since I've been using this pillow I haven't had any issues with either of those! This pillow is so comfortable! I wish I would have bought it sooner!! My husband and I have a queen bed and it does take up my side of the bed, but he still has room to sleep. I highly recommend this pillow and it's such a great deal!
I got this pillow for my pregnant daughter. She was having back pain and difficulty sleeping. She loves this pillow. It helped with her back pain and she has been able to sleep.
Many thanks so big could be little longer it due fine so big almost a bed lol