Vornado ULTRA3 1 Gallon Whole Room Ultrasonic Vortex 120 Volt Humidifier, White Vornado $49.99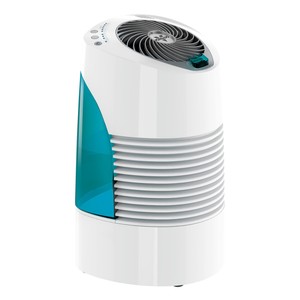 Buy This Item
ebay.com
Features
Features: Plug, Mini, Remote Control
Type: Steam Vaporizer
MPN: ULTRA3
Color: White
UPC: 0043765009888
User reviews
I've bought & used a variety of humidifiers over the years, starting with the cheap plastic tubs with two electrodes in the water. The electrodes corrode quickly & then it's trash. I got tired of that & went for a fancier/pricier ultrasonic one; took a little longer, but the story is the same, trash. Then I bought one of these; two & half years latter, it's still working like new. So when Mom said we needed another one, the which one decision was extremely easy. It may cost a little more, but worth every penny! p.s. Toss the filter & use distilled water; it's inexpensive & your humidifier will last forever; hard water is the killer most of the time.
The humidification function is quiet and effective, but the humidistat function which is supposed to turn the device on and off in order to maintain the proper relative humidity does not seem to work. It just runs until it is out of water. I set the humidity level at 40%, but when my other humidity reader says 54% this humidifier is still pumping away. This is disappointing since the purpose of buying the humidifier was to maintain a consistent humidity level for my guitars.
Pros: Quiet with some gentle white noise. FYI, fan is continuous. Great price. White Ultra3 is the same as black unit for half the cost Cons: Bright LED's that need to be covered for bedroom use. Reservoir is awkward to hold and fill. Also requires daily filling.
Had tons, most recent a Vicks and the tank broke fast, blew out steam but way little compared, this even on low blows huge, on high, forget about it, tank is made way thicker, unit is solid, cost more but Vornado kicks
Fan can be noisy at high speed, water vapor can sometimes exit as large droplets wetting surrounding area. Water tank can be difficult to install. But overall I give it a passing grade.