WG191 WORX 56V 13″ Max Lithium-Ion Cordless Grass Trimmer & Edger Worx $127.49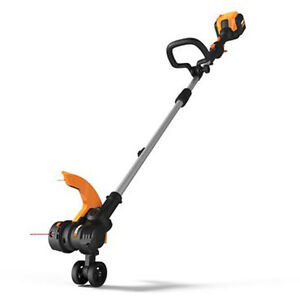 Buy This Item
ebay.com
Features
Model: WG191
Modified Item: No
Non-Domestic Product: No
MPN: WG191
Power Source: Battery
Custom Bundle: No
UPC: 845534012064
User reviews
I always had 40v Trimmers from Black and Decker, but now I don't even want to use my Black and Decker any more. This one is so much more powerful and I get the job done in 1/4 of the time. The battery charges very quickly and I can do half of my yard with one charge. The only thing that bothered me is the edger with the wheels that are on the side for right hander. I am a left hander and it is quiet awkward for me to use it, so I won't. Maybe worx should think at all the left handers when developing a tool???? That is where my Black and Decker comes into play now. Otherwise I would give it 5 stars.
I am not certain if I can recommend. For some reason, it charges for only 5 mins. Not sure if it is the battery, charging unit, or if ithe unit will not take the charge properly. I bought it last summer and only recently tried it. I am hoping that the company will help me. I turned the warranty card in very late losing a year off the warranty. It was very expensive and was hoping I could use in some difficult areas of the yard. It's a little heavy for me but I can manage if I can diagnose the problem and have company resolve. Otherwise, this will be a huge waste. Anyone know what could be the problem?
Wow! Replaced my MTD Gas Edger and my Toro Electric Weed Eater. This unit performs great. The more I use it the better I like it.😉 When I pop out the battery it falls in my hand. It doesn't take long for it to charge.👍 It takes some getting used to but, I don't get tangled up in a cord and I don't have to choke it and pull the crank rope! 🤗 It uses a good deal more line when I edge but I can buy 250 feet of replacement for less than $9. In addition, I am learning to run it more efficiently. So, future use should be less. This is my 1st cordless yard machine. I have been waiting for one with dual purpose and strong battery/motor so I could keep up with my St. Augustne
This is a very nice tool for the garden. Equals the power of a gas trimmer and is far less bulky. The line runs out quickly but this happens with any trimmer when your trimming heavy areas. The edger is a bit awkward the way the wheel sits it makes it a little tough to eye up your cutting line area. I would recommend this item as it really makes life easier on grass cutting day.
Light and easy to use. I have used electric and gas this is by far the easiest I ever used. Well designed and solidly built.