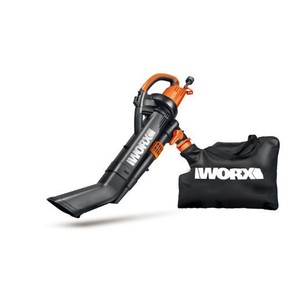 Buy This Item
ebay.com
Features
Type: Leaf Blower/Vacuum Combo
Custom Bundle: No
Model: WG500.2
Modified Item: No
Non-Domestic Product: No
MPN: WG500.2
Power Source: Corded Electric
UPC: 845534012866
User reviews
This thing is great. This is by far my favorite tool. Buy this if your tired of raking leaves and using a lot of bags. I have a small yard with two Oaks and two Maples. These bad boys drop a lot of leaves. Use the product according to the directions and it will work well for you. It has a lot of power and directs the leaves nicely into a pile without messing your pile up. Use the vacuum mulcher about an inch or so from the leaves. You'll get the idea after you use it for a few minutes. I have a lot of joint and skeletal problems and I can use this a lot better than raking and bagging. I also bought the hose attachment that goes over a trashcan. Spend the extra money to get this. It mulches the leaves straight into the trash bag without having to fight with getting the leaves in a trash bag. Don't try to rush and be smooth with it. I'm a retired SSG and my 1stSgt always said that smooth is fast and he's right. This mulcher is for leaves and not for limbs. It will however take care of very small twigs that you can barely see. I promise you won't go wrong with this. It's actually fun to use this.
The product has good power and is a good idea and good value but only for very specific purposes and not necessarily advertised accordingly. Granted it is advertised for leaves and mulching, and will perform admirably in this area, but beware, do not for a second think you can vacuum up dust and dirt. Oh, the vacuum will suck it up just fine, then it will go through the bag and right back into the air and on the floor where you got it up to begin with. So, no dirt and dust. Just stick to items that mulch. Enjoy.
This item works well as a blower, but as a mulcher/vacuum, it sucks. First of all, the handle is very awkward, it's hard to hold this item, and your arms will be very tired after 5 to 10 minutes holding this. Secondly, the suction power of the vacuum is a joke, it won't pick up any leaves that's not completely dried off and bigger than 6" in length. I had to literally kneel down and pick up all the bigger leaves and push into the vacuum's openning for it to work. It is alot more works to use it than advertised.
Really sturdy product, easy to assemble, easy to switch from blower to vacuum very easily. Makes doing yard work so much easier especially since I have several trees in my yard that lose their leaves during the fall. Will definitely save on leaf bags since the leaves are mulched so finely.
Pros1-The vacuum & leaf grinding works great Cons 1- leaf blower is week do to the wide blower/vacuum mouth 2- too short-I am only 5'8 and need to bend over fore vacuum/ blower 3- Extremely awkward to use especially on vacuum setting when bag is blown up. 4- On/off switch too far forward for easy access