Xbox One S 1TB Console Microsoft Xbox one S 1Tb Brand New Microsoft $229.99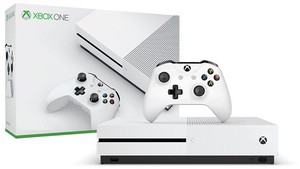 Buy This Item
ebay.com
Features
Non-Domestic Product: No
Model: Xbox One S
Modified Item: No
A/V Output(s): HDMI
Resolution: 4K (UHD)
Platform: Microsoft Xbox One
Region Code: Region Free
Manufacturer Color: White
Color: White
Hard Drive Capacity: 1TB
Features: Blu-Ray Compatible, Wi-Fi Capability, Internet Browsing
MPN: 23400347
Design/Finish: Matte
Type: Home Console
Product Name: Xbox One
Modification Description: none
UPC: 0889842105001
User reviews
Small and light. Graphics seem better than my xbox one. Has a 1TB hard drive which is huge amount of storage. This has better hardware than my xbox one. Faster operation and more fluid movements. I like this machine. I went back and forth over the One X vs the S and since I game on a PC I use a Asus ROG 27 inch monitor. Its native resolution is 2560x1440 so since use my gaming monitor for my Xbox it didn't make sense for me to go the one x.
The Xbox One S is a proper step between the One and the X. And while it's about half the price of the Xbox X a super value unless you just have to have the best. You must have internet though. First time game discs, new or retro, get automatically upgraded in system through internet downloads which may, that first time, take quite a while. Subsequent play of course is normal sign in routine. Sadly, during long nights hiding with no internet during the zombie apocalypse, this game will be useless.
The price was a value. My son loves it. He was so happy when he opened it for his birthday. His big brother and dad hooked it up right away. They down loaded one of his new games and he just loves it. Shipping was fairly quick too. Thanks!
I bought this Xbox as a TV streaming unit that is connected to a HdHomerun 4 channel broadcast TV receiver. It works perfectly for that purpose plus all of the other features a Xbox has. This is an excellent media center.
I have been really pleased with this product so far, the graphics are excellent and the game play is a lot of fun. What I find really nice about this Xbox is the wireless controller that allows you to turn on/off the console by pushing and holding down the power button on the controller.