Xbox One S 1TB Console – Minecraft Creators Bundle Brand New Microsoft $238.99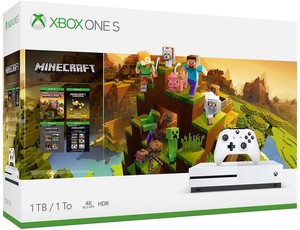 Buy This Item
ebay.com
Features
Hard Drive Capacity: 1TB
Platform: Microsoft Xbox One
Product Name: Xbox One
Model: Xbox One S
MPN: MINECRAFT
UPC: 889842334043
User reviews
Awesome! My kids like it a lot. My 6 year old daughter has to take turns to play it with her brother, since there only came with one controller. One suggestion, get the 2nd remote controller as a bundle. Or get the kinect asap. It was shipped very quickly.
Got delivered earlier than expected, works perfectly, like it said, new. Love it! Especially the Minecraft bundle, any Minecraft fans totally recommend the Xbox 1 S. 👏🏽😆
Came in fast cant wait for my little man to open it for Christmas will be making another review after its played
Great value and the kids love it, when I'm not on it, lol
It seemed like as soon as I placed my order the package was on my doorstep.