Xbox One X 1TB Black Console – Black controller & Xbox One X included Microsoft $0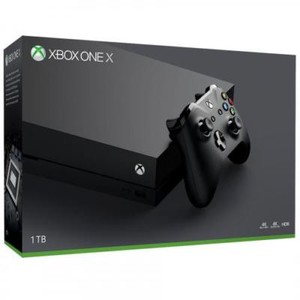 $499.00

Buy This Item
ebay.com
Features
MPN: CYV-00001
Hard Drive Capacity: 1TB
Model: Xbox One X
Platform: Microsoft Xbox One
Product Name: Xbox One
Color: Black
UPC: 889842208252
User reviews
first off this was a newegg deal for 2 games with the Xbox One X Star Wars Battlefront II and Call Of Duty WWII for $586 total after Tax! system is completely worth every cent! I count it as a Gift from my Daddy God 😀 3 so plays native 4k UHD blu-ray Disc so thats $299 right there saved!! plus the price of a gaming PC to Keep up with this system would also set you back another $1200 (not a Joke!) there are many games (130+) that are supporting the One X enhancement program not all are native 4k but that has to do with the publisher not the One X they are helping Support the program when they do the enhancement! such as FFXV Not true 4k but is enhanced! but forza being true 4k 60fps get it!? so is Battlefront and COD WWII hope that clears some of the air I am hoping for a better patch for FFXV! it needs it! even as being done for exclusive One X enhancement!! they really just used the same thing with the PS4-Pro update and tossed that work to the One X causing it to share much of the dips and frame rate problems, Super Not happy about that!!! :'(
Because of the limitations of the human eye, the difference between 4k and 8k probably won't impress like the leap up from 1080p. And the difference between 60FPS and 120FPS is nowhere near as impressive as 60 from 30, unless you're a hummingbird. If I can understand that, I can understand that the gap between PC and console power is narrowing... Introducing the X1X! 🙂 The gap is narrow enough, man; forget your PC. You think the Sony/Microsoft rivalry is heated? Nah. Sony fans are good guys enjoying a good product, and of COURSE I'd also like to own a PS4 Pro at some point. No, it's the PC gamers who hate. Guys who spent north of $1500 on their rigs (sold at profit, mind you) when they could have enjoyed some incredible photorealism on the X1X (sold at a loss by Microsoft -- those angels!) for not 1/3 the $. (Is Far Cry 5 @ 4k w/ HDR beautiful, or what?) The gap has (naturally) never been so narrow. And it is N-A-R-R-O-W, dude. You know what the X1X is? It's a beautiful black existential crisis for lifelong PC gamers. We're gonna have to start calling you guys BC* gamers. *"Bitter Clinger" LOL I'm over here laughing and I invite Sony fans to join me. Cheers to us both, please no HZD spoilers, and I can't wait to see what the PS5 does to that gap. 🙂
Seeing as production for the original Xbox One has stopped, I felt it was time to upgrade and stay up to date with the latest technology. I currently have a 1080p TV and can already see increasingly bright and crisp graphics. I can only imagine how this looks on a 4K screen! Loading time is reduced, I load into multiplayer games instantly while others are taking 15-30 seconds. I am an avid gamer and Xbox customer and this product helps keep me at the top of my game. Not to mention I got it for $100 below retail from Newegg. Highly recommend if you can spare the cash and want the ultimate experience.
The xbox one x has totally won me over. I also have the PS4 pro, which is good, but it's not on this level. Halo 5 looks like a brand new game on 4k screens. It's pretty incredible it runs most games at a native 4k. Everything else just runs smoother when compared to my xbox one s. The other surprising thing, is just how small and quiet it is. It's a little smaller than the one s, and is insanely quiet. Very impressed with this system and can't wait to see the new games take advantage of its power.
I got this product for $400 from Newegg. For that price I think this consol is a great deal. I had the day one edition of the xbox one and it was time for an update. I was either going to get an Xbox one S ($200 at the time) or the X. I got the X and wasn't blown away by the picture (could be my eyes, my first generation 4K tv, or the Xbox) I wish i could return the Xbox to get the s but It turns out that Newegg doesn't accept returns. Ultimately, the load times are much faster than the Xbox one and the picture is better. It is a great value for $400 and I recommend it if you have a 4K tv with HDR10. But with my current setup and my interests, I think the S would've been a better buy at $200.