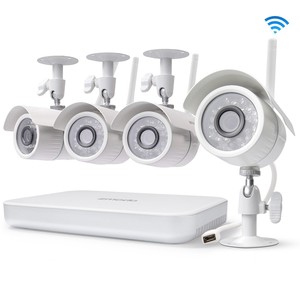 Buy This Item
ebay.com
Features
Model: ZM-KW0003
Warranty: 3 Years.(NVR & Cameras & All Parts Included)
Modified Item: No
Smart Home Protocol: Wi-Fi
Custom Bundle: No
Camera Resolution: 720p High Definition (1280*720- Megapixel)
MPN: ZM-KW0003
Remote Access Device: Android™ 4.0 up, IOS® 7.0up, iPad®, PC
Color Mode: Color Day, B&W Night
Application: Indoor/Outdoor
Estimated Recording Length: Intelligent Recording up to 30 Days
Number of Cameras Included: 4
Remote View Network: Mobile remote view with WiFi or 2G/3G/4G Network
Connectivity: Wireless
Power Supply: 6 ft
Camera Connectivity: IP/Network-Wireless
DVR/NVR Channels: 8 Channels, Support up to 8 cameras
Camera Type: Bullet; Outdoor&Indoor
IR Night Vision: Up to 65ft
Hard Drive Capacity: Support up to 4TB, No Hard Drive Included
Non-Domestic Product: No
Features: Infrared/Night Vision, Wide Angle
Output: HDMI Output
NVR Recording Mode: Intelligent/Basic, Time Schduled, Motion Detection
UPC: 889490016780
User reviews
they are hard to get set up and going but once it is they work great! The most important part is patients, you need to wait to let the IP address be found and set up. once that is done they work great! The IR and night vision works better then some $200 per cameras systems i have seen that people buy. Big price doesnt always make a system better just take a bigger chunk out of your pocket. This system works well! I have not had it long enough to say how long the cameras will last. 2 weeks now on 24/7 and ok so far. they do get warm so that concerns me on how long they will last. so far so good... I rated 4 stars as good because I have not found a number to call for tec support.
To start out this was great. Packaged nicely and really easy to set up. Download the app and everything comes together seamlessly. You don't have to do any serious network configurations. After a few days I had one camera that kept disconnecting from the network and I would have to power cycle it to get it back on the network only to lose it a few hours later. So I sent that camera back. The following week I had a different camera that is now stuck in night mode. When the daylight comes everything stays gray. If I power cycle it, then it fixes itself only to repeat the next day. Their is an hdmi that you can run from your nvr to your tv to view the cameras in real time which is nice but I noticed that every few 30 seconds or so I had cameras that were freezing up. With that I'm going to return mine, great concept but there isn't any consistency. The wireless technology isn't there yet with this product. If I can't count on it to record at all times what good is it.
Cameras took a couple minutes to sync up to the app but they work good after you adjust the settings to pic up more or less of the area it monitors. Good product for the money. Cameras record short clips of motion that is detected which works fine for what I want in an entry level system. 720p cameras with 1080p output to hdmi screen. Not too shabby...
first off the cables look fragile as in it may get damaged during the install, and because they have this unique end connector you cant replace with regular ethernet. avoid this system if you can plus the image quality is no good for 720p. would go with another kit. and they say "indoor/outdoor cameras" in description but what they mean is 4 indoor and 4 outdoor cameras. i thought they were able to be used in both situations so now i just lost 4 cameras that i cant use outside and i cant use with another system. However, this is best for use in an office environment.
At first I was a little hesitant to purchase this but after reading a few good reviews I bought it. The price was also a good bargain and I had looked at others for far more money. The installation went easier than I excepted. I mounted one above my garage facing the driveway ,one above my front door ,one facing my yard and the last one I have alongside my house. The picture quality is better than excepted during daylight. The nighttime view is a little grainy but still viewable. The app and downloading it went better than excepted.I have used the playback mode and was impressed with the ease and quailty of the video. I bought a portable external hard drive from Staples for $60.00 to have storage for my videos for more protection. A great buy by all means !!! Thanks Zomodo !