Zmodo Pivot 1080p HD 360 Rotating Wireless AIO Security Camera System Brand New Zmodo $59.99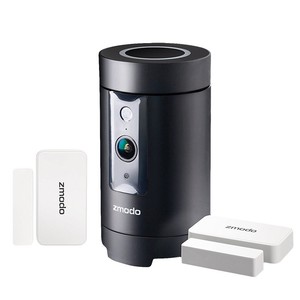 Buy This Item
ebay.com
Features
Non-Domestic Product: No
Connectivity: Wireless
Model: ZM-SHP001B
Smart Home Compatibility: Amazon Alexa
Resolution: 1080p
Camera Technology: IP/Network
Modified Item: No
Color: Black
Color Mode: Color Day, B&W Night
Features: Wide Angle, Infrared/Night Vision, Audio Recording, Built-In Memory Storage, Pan/Tilt
MPN: ZMSHP001B
Custom Bundle: No
Application: Indoor/Outdoor
Camera Connectivity: IP/Network - Wireless
Smart Home Protocol: Wi-Fi, Bluetooth
Number of Cameras: 1
Type: Dome
UPC: 889490006705
User reviews
I ordered 2 of these for my home. They arrived one day ahead of schedule. The set up was easy and the quality is good. There was a firmware update that each camera needed but that was painless and took no time at all. I can view the cams on my tablet, phone and on the website. I had a bit of difficulty trying to figure out the Motion Detection Area but I think I've got it working now. I also was having difficulty logging in on my phone initially, but I contacted support via Chat and was successfully able to view my cams when we were done. The problem was a setting in the Apps section. I certainly recommend these cameras for footage but not for the bluetooth. Sound quality is not that great and the song kept skipping.
I just wanted to take a minute to explain why this camera, the Zmodo Pivot 1080 P is Not Ready for Prime Time. First, it does have potential. The hardware seems sound. The price point would be reasonable *IF* the features had been better thought through and some (seemingly) basic functionality had been supported. So, what are the issues? Issue #1: you can't change the sound of the notification. Seriously? I don't know about you, but to maintain my sanity, I do not check my phone every time it makes a noise. I am trying to use this Zmodo to alert me to when people come into our small tackle shop at the resort. If all you hear is a notification like you just received a text message, you're often not going to pay attention. Most apps allow you to change the notification sound. This is a serious oversight, but hopefully one that can be remedied very quickly. Issue #2: you can't set the notification to repeat until canceled. Another reason this doesn't work to alert you... There should be an option to have a notification that behaves more like an alarm instead of a standard notification. An alarm sounds until you cancel it. How many times do you miss notifications on your phone? If you are using this set up to try to alert you that someone has come in the door or opened a window or that there has been motion in a room, you really need the option to set that alert to continue until you cancel it, just like your alarm clock. Again, hopefully something that can be fixed relatively easily, but a serious oversight for daily use. Issue #3: the motion sensor reset delay - once the motion sensor trips, tech-support tells me that it takes between 10 to 15 minutes for it to reset where you will receive another notification. In my world 10 people may have walked in and out the door in that time and I will have missed all of them waiting for the unit to send me a fresh notification. This is pretty much a deal breaker for me. That is a parameter that should be able to be set by the user! In my case, I would set it for no longer than 2 minutes. Issue #4: the app itself... In addition to the things that I've told you are missing from the app, the app itself is confusing, counterintuitive, and glitchy. For example, the scheduler that changes modes based on time of day does not seem to work properly. Additionally, it has shopping and social content that seems oddly out of place considering the missing basic functionality. All in all, the hardware seems fine, the price point is good (hence my rating of "yes" for good value) but the app/features were poorly thought out and executed, as if it's trying to be too many things to too many people, and not executing the basics very well. Focus on giving basic functionality that one would expect and re-vamp the app to make it more intuitive and user-friendly. If that happens, I'll be happy to modify my review...
Camera quality is excellent setup process is a breeze. Product build is solid blends in with home perfectly with design. Remote viewing is smooth and clean. Built in microphone and speaker are a lovely bonus for added communication. Overall a great product at a great price. The main reason I purchased 3 of them. Highly recommended to everyone.
Once you have successfully set up, the rest is easy. The image quality of this camera is really nice, the 2 way communications works well, and love the 360 viewing. Still have to set up the door sensors once I determine which doors I want them on. I'm sure setup will be fairly easy. I also love that there is the option to store video and images on a local SD card. I have added a message to ZMODO below and hope they get it ? I apologize if this isn't the right place, but feel it may also help prospective buyers who have difficulty setting things like this up. MESSAGE TO ZMODO, Because I have a little technical skill, I am able to figure out how to set up your devices.However, your average consumer will have a hard time setting this camera and others up. During the set up, your required to jump back and forth between the app and your wifi settings and this can cause a lot of confusion and difficulty during set up! So needless to say, Set up is not very easy.
I took a gamble on this camera and it paid off. Works great and easy to setup. Great picture and sound quality. Only negative is where you place the unit. The sun light sometimes covered by clouds causes unit to turn on IR night mode and screen goes from beautiful color to night mode gray. Overall, glad I bought it. Definitely recommend buying this indoor camera.